Hallway Lighting Ideas & How to Choose Them
Posted on
October 20, 2023
by
iurii
Wondering how to jazz up your hallway with the best light fixtures on the market? We've got just the answer for you! The right lighting can be magical and illuminate your hallway in a way that makes a powerful statement.
However, knowing what kind of lighting you should choose for your hallway can be tricky. Your hallway is the first impression guests have when they enter your home. So your lighting choice is important.
With tons of lighting options available on the market, how do you know which one you should go with? That's why we're here.
Siga Home Comfort has stunning chandeliers with just the right amount of dazzle to create a memorable impression. We can help you explore various hallway lighting options that are trendy, stylish, and perfect for your home. In fact, we've put together this comprehensive list of how to choose chandelier lighting.
Whether you go with hanging sconces, a hallway chandelier, a hallway pendant light, or cluster pendants will depend on the look you are trying to achieve and some variables about your space.
Think About the Height Above the Floor
The height of your ceiling is a key factor in selecting the best hallway light fixture for your foyer. You want to maintain about a 7 feet clearance between the bottom of your light fixture to the floor. When it comes to hallway light fixtures, the bottom of a hanging pendant or chandelier should hang at least 6 inches above the entry door. This allows for plenty of clearance.
To determine what the best height for your fixture should be, use the height of the ceiling in feet. So, if your ceiling is 9 feet, multiply the height by 2.5-3 inches per foot. This will give you 22.5-27 feet. Then convert from feet to inches.
Get more tips for chandelier installation.
Think About the Overall Size of the Hallway Light
A second thing you should be taking into consideration is how big your lighting fixture is. A light fixture that is too large can overwhelm your hallway, and one that is too small won't provide sufficient lighting. This is why the height and diameter of your light fixture is important.
The first step is to measure the width and length of your hallway in feet. Then add the length and width of the room and change that number to inches. For example, if your room is 12 x 16, adding these two numbers will give you 28 feet. Change 28 feet to 28 inches and this is the ideal diameter for the light fixture.
Trending Hallway Lighting 2024
Chandeliers are grand and eye-catching and are the perfect hall lighting. There are various types of chandeliers, each with a powerful impact. There are plenty of chandelier options to choose from like crystal chandeliers, glass chandeliers, and modern chandeliers, to name a few.
Hallway Light Fixtures
Double Square Ceiling Light
This fixture shows off the beauty of geometrical elements in lighting fixtures. Its bright and sleek design makes this chandelier a showstopper that radiates effortlessly. This crystal light fixture is elegant and has 6000K LED bulbs. It also comes equipped with genuine K9 crystals placed around the perimeter of the lighting fixture that adds to the chandelier's magnificence.
Galaxy Chandelier
This dreamy crystal chandelier offers sparkle galore! You won't be able to take your eyes off of this beauty. It's an excellent fit for any modern or contemporary-themed home. The Galaxy Chandelier comes in three different diameter sizes – 16, 20 and 24 inches, and is 8 inches in height.
Ball Chandelier
It's safe to say that this light fixture is designed to stun. The detail of this modern ball chandelier and its different-sized crystals are a wonder to behold. The crystals suspended in the air allow each crystal to shine as the lights at the base of the chandelier penetrate each crystal and produce a mesmerizing effect.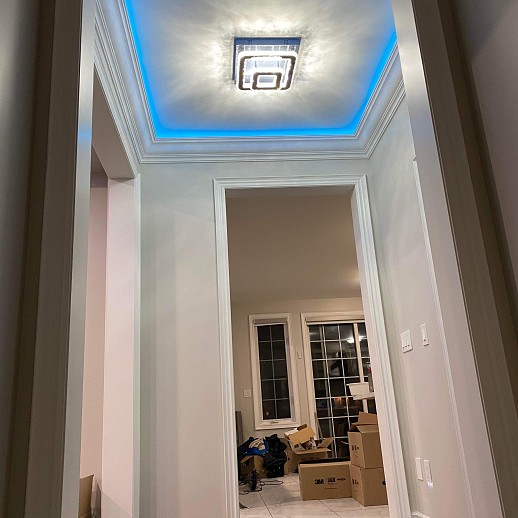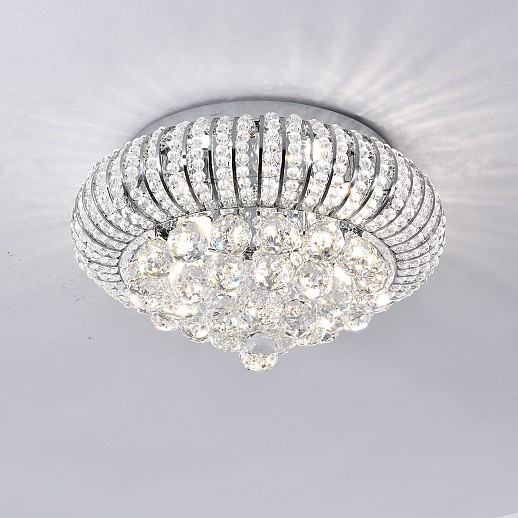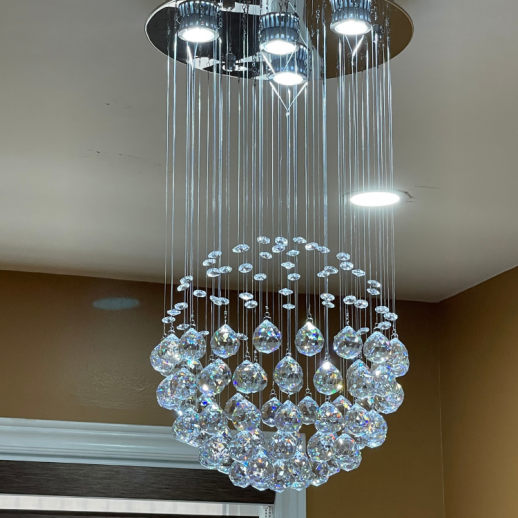 Hanging Sphere
This spherical masterpiece is not only magical but creates a captivating showpiece befitting your home. Its elegance is spectacular, and the varying lengths of the chandelier's crystals allows for a series of magical illusions that cast light throughout your hallway. The combination of smaller and larger crystals gives more dramatic emphasis.
Three Circle Ceiling Light
This brilliantly designed chandelier uses the power of geometry to show off its beauty. The shiny rings create depth to the feature and make it ideal for a contemporary style home. The three rings adorned with glass crystals and illuminated with LED bulbs create a sparkling halo effect.
Fireball Ceiling Light Fixture
The charm and elegance of this chandelier will stop you in your guests in their tracks. Its K-9 crystals are illuminated with 4000K LED bulbs that form shining balls of light. The crystals hanging from the chrome metal frame send light piercing through the crystals and to the immediate surrounding area.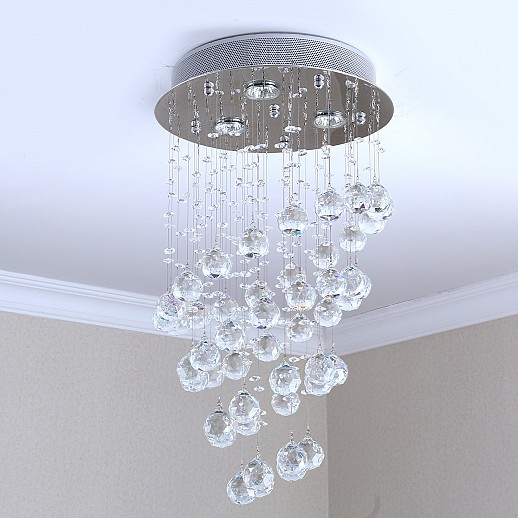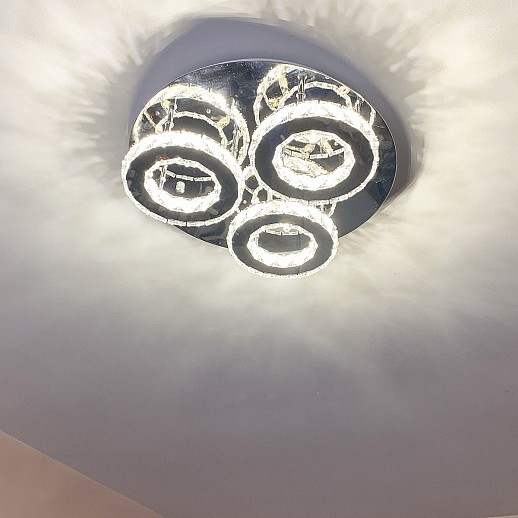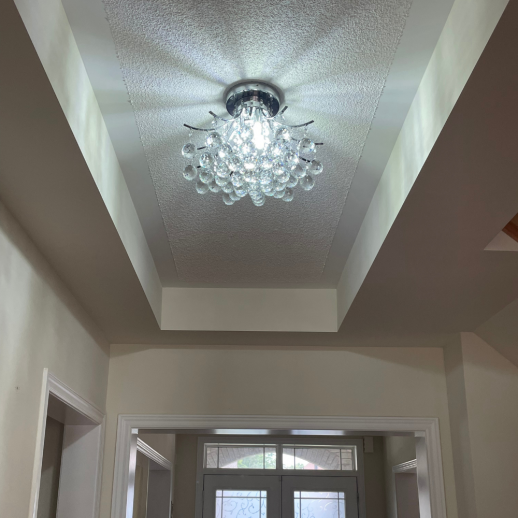 Crystal Grid Ceiling
This dazzlingly elegant light fixture deserves two thumbs-ups for its brilliant design that incorporates both simple and dramatic elements. The clean lines and sleek edges of this crystal grid provide a subtle contrast to the striking K9 crystal lighting in the center of the grid. The harmony between these elements makes this an absolute must-have.
Oval Crystal Light
The series of oval lights that make up this captivating fixture are adorned with sparking crystals that form perfection. The minimalistic design is contrasted with sparkling crystals that make this chandelier perfect for contemporary homes. It can play up other features in the space and its layered oval rings and crystals add a magical detail.
Four Squares
Amp up your home's "wow" factor four times over with this outstanding hall lighting masterpiece adorned with stunning K9 crystals and LED light bulbs. This chandelier is a knockout and features sleek and modern metal accents that blend together to form an absolutely breathtaking lighting fixture. It is a perfect blend of minimalistic design and extravagance.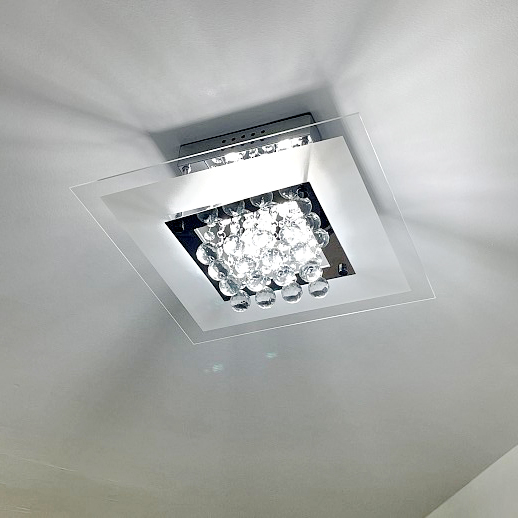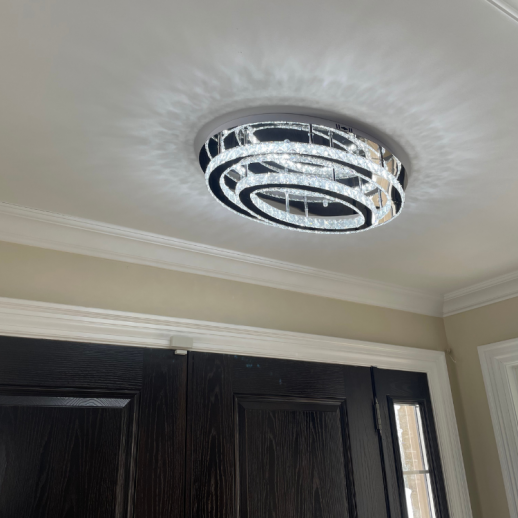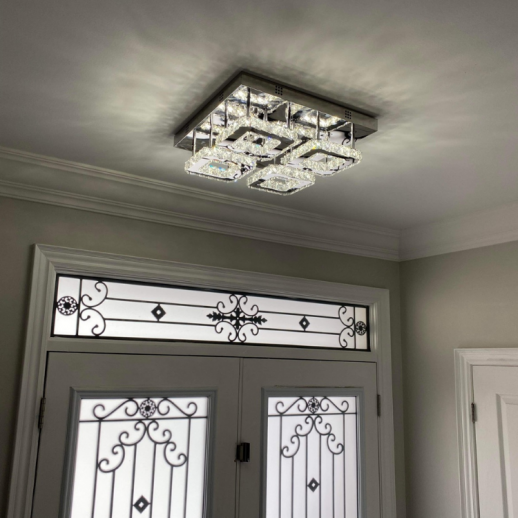 Further Tips to Choose Your Hallway Lighting
Think About Brightness
Good lighting can make all the difference in your hallway, but you don't want it to overwhelm the room. It's important to make sure that you achieve the right amount of brightness. The brightness of the room will impact the mood of the room, with shades ranging from yellowish to warm, natural, daylight white, and bluish-white. How bright a light is is influenced by the lumens. The more lumens the light has, the brighter it will be.
Think About Ceiling Structure
Since your ceiling is your fifth wall, you need to be mindful of its features when you are selecting your hall lighting. The style of the light fixture should complement your ceiling and not compete with it. So go for a lighting option that does not clash with the structure and design of your ceiling.
Match the Hallway Light to the Overall Theme of Your Home
Anytime, you are considering a lighting option, think about how that lighting fixture will tie into the rest of your home's theme. Always remember that a lighting fixture should be part of the grand theme of your home. So if you have a contemporary-themed home, find a contemporary-style lighting option to match.
Discover more tips for matching lighting fixtures for your home.
LED Lighting and Energy-Saving Tips
Investing in LED lightbulbs is the best energy-efficient action you can take. These lights may have a higher upfront cost, but only utilize 10 to 20% of the electricity consumed by standard lightbulbs and last significantly longer.
Discover more tips on energy-saving chandeliers.
Light Control Options
Installing timers and sensors can help you cut down on your energy usage. Also, consider installing dimmer switches that allow you to adjust the brightness of your lights at different times of the day.
Cleaning and Maintenance Tips
Keeping your light bulbs clean will increase their efficiency and extend their lifespan. All they need is regular dusting to remain in tip-top shape.
Learn more about how to safely clean and maintain crystal chandeliers here.
Let's Select the Right Foyer Chandelier For You
Now that you know what hallway lighting options are trending for 2024 and how to choose the right one for your home, it's time to make your choice! Siga Home Comfort is your one-stop shop for all your lighting needs. Our showroom is now open, so come take a look to find the perfect chandelier for your hallway!
Get in touch with us for details.