How to Safely Clean a Crystal Chandelier in Toronto
Posted on
September 11, 2022
by
ADMIN
When you find the perfect crystal chandelier for your home, you want to keep it in pristine condition looking beautiful as a focal point in your home. But crystal light fixtures from Siga Home Comfort, are not like any other chandelier in Toronto. When you buy a crystal chandelier online or in-store, you are choosing a delicate and stunning aesthetic that requires a strategic approach to care.
Read on for tips on how to clean your crystal chandeliers and modern light fixtures in Toronto and maintain their condition.
Wiping Your Crystals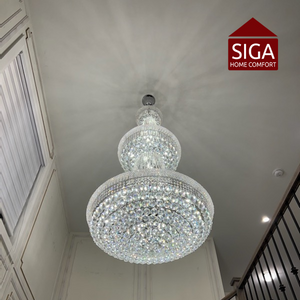 At Siga Home Comfort, all of our crystal chandeliers online are made with authentic K9 crystals. Like with glass and other transparent surfaces, paper towels can be abrasive, creating small but unwanted nicks and scratches. Paper towels also have a tendency to cause pilling and leave behind debris. So, it's recommended that a microfibre cloth is used. The small but strong fibres can effectively get around curves and into crevices to pull dust out of your chandelier in Toronto.
Cleaning Solutions for Chandeliers
To preserve the lustre of your chandelier's crystals, most chandelier experts suggest using a solution of one-part isopropyl alcohol to four parts of distilled water. Not only will this solution act as a disinfectant, it will also aid in eliminating any unwanted marks by loosening dirt and stuck on grease.
When choosing a solution to clean your crystal ceiling lights, it's important to avoid ammonia-based cleaners. These harsh chemicals are corrosive and can diminish the look of your chandelier.
Wear Gloves When Handling Crystal Chandeliers
You may notice when you touch a glass, crystal, or reflective object with your bare hands, that you'll leave behind a fingerprint. As fingerprints accumulate on the surface of chandeliers in Toronto and their crystals, it clouds the appearance, leaving your light fixture looking murky. To avoid fingerprints when cleaning your crystal chandeliers in Toronto, try wearing white cotton gloves to prevent the oil from your hands from transfering prints.
Additional Cleaning Tips
You won't always need to do a thorough cleaning of your crystal chandelier in Toronto if you employ easy cleaning maintenance between deeper cleans. This could be as simple as dusting your chandelier with a microfibre cloth when doing other regular cleaning tasks.
Cleaning LED Light Bulbs
While you're cleaning your crystals, it's a good time to also clean your light bulbs. When you shop chandeliers in Toronto or the GTA from Siga Home Comfort, LED light bulbs come free with your purchase. These bulbs are cool to the touch, so after unplugging you typically won't have to wait long before making contact, but it's always smart to check before putting a hot bulb in direct contact with your skin. Simply wiping bulbs down with a clean microfibre cloth and your isopropyl alcohol solutions will get them back to good condition.
Crystal Chandeliers in Toronto
If you've been thinking about a crystal chandelier for your home, but are concerned about keeping it clean, don't worry. Crystal light fixtures are easy to clean and leave your home looking more open because of their transparent qualities.
To find your perfect modern light fixture or crystal chandelier, book a free in-home consultation with the Siga Home Comfort team today, a top home lighting store in Toronto.