Guide to Choosing Matching Light Fixtures for Your Home
Posted on
August 22, 2022
by
ADMIN
When decorating your property, it's common to want your furniture, decor, and accents to be cohesive and flow. From dining room chandeliers to kitchen ceiling lights and hallway light fixtures to bathroom lighting fixtures, it can be hard deciding on what light fixtures in Toronto will perfectly match your space. At Siga Home Comfort, we provide free in-home estimates. Our team will deliver your chosen lighting options and bring other samples, so you can see exactly how they'll look in your home. Choose your favourite light fixtures or chandeliers, and we'll deliver them right to you!
Read on for a guide on matching your light fixtures for your whole home's aesthetic.
Choosing The Right Light Fixtures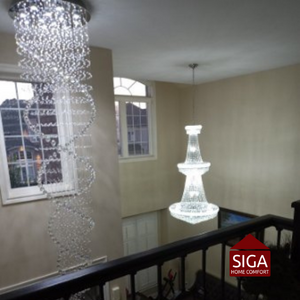 Cohesive designs with matching light fixtures quickly enhance the look and feel of your space, and a coherent strategy and attractive lighting options in all areas of your house make for a luxurious ambience like no other. At Siga Home Comfort, we offer various types of light fixtures and breathtaking crystal chandeliers in Toronto.
The first thing you'll want to do when choosing a light fixture is to decide on a feature or two and keep the theme consistent throughout. This will provide an overall cohesive look to your home design. One of the best tips is matching the bulb type with the other light fixtures. At Siga Home Comfort, we offer built-in bulbs for our chandeliers that are colour changeable and switch from warm light to daylight. In addition, all of our other lighting fixtures are dimmable, so you can get the exact amount of illumination you prefer at the moment.
Bold Lighting Fixtures: Bold lighting options like crystal chandeliers are great for coordinating a modern or contemporary aesthetic. Since chandeliers stand out, they draw the eye upon entering a room.
Subtle Lighting Fixtures: Pendant lighting or bathroom lighting fixtures are great for balancing bolder fixtures. They are easy to match and quickly transform a room into its fullest potential.
How to Match Your Light Fixtures
Now that you've got your eye on a few different light fixtures, you'll want to know how to style them throughout your place. It's sometimes difficult to design a comprehensive look yourself, but don't stress. The experts at Siga Home Comfort are highly experienced and knowledgeable in coordinating light fixtures. From vanity to pendant lighting, our team has the fixtures to illuminate your atmosphere in no time.
To match your lighting, choose a common theme such as type of bulb, metal, or adornments, such as crystals. Siga Home Comfort's light fixtures are chromed metal, have matching dimmable bulbs, and premium K9 crystals in all of our chandeliers, so you can successfully achieve the desired look throughout your entire home.
Choose Siga Home Comfort
Crystal chandeliers and light fixtures in Toronto have become extremely popular in the past few years for those trying to achieve a modern or contemporary look. Siga Home Comfort has been the leading online lighting store in Canada and the only business that offers free in-home estimates. Our team provides a personal approach to our services and truly cares about making our customers satisfied.
Love the lighting you see in our online shop?