5 Benefits of LED Light Fixtures in Toronto
Posted on
February 24, 2022
by
ADMIN
Modern light fixtures in Toronto are more than an accessory so picking the right light fixture for your home is about more than just the look and design. Of course, it is important that you select pendant lighting, vanity light fixtures, and chandeliers with which you're in love. Still, it's equally vital that those light fixtures in Toronto are a functional addition to your home and space. A key to selecting modern lights in Toronto best suited to your style and the needs of your space is by assessing the lighting ability and light bulbs themselves.
More than ever, LED lighting fixtures in Toronto have been a top choice for homeowners and decorators across the city. Here's why you should choose LED light bulbs for all your pendant lighting, vanity light fixtures, and crystal chandeliers in Toronto. Reach out to the Siga Home Comfort team for a free consultation to learn more about the benefits of LED lighting fixtures.
Energy-Efficiency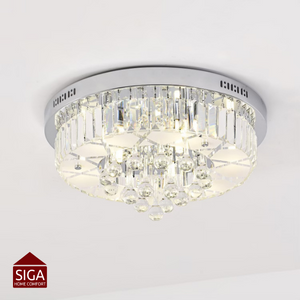 LED light bulbs, short for "light-emitting diodes," are more energy-efficient than incandescent or halogen light bulbs. Light fixtures in Toronto equipped with LED bulbs can reduce energy usage by up to 80%-90%, depending on your previous lighting. Energy efficiency is not just an environmental benefit. It also helps homeowners save significantly on monthly electricity bills.
Longevity
Compared to traditional bulb choices, modern lights in Toronto that use LED bulbs have a longer lifespan and are more durable for everyday use. Older, more outdated types of bulbs would diminish with frequent switching on and off, making replacements more frequent or sudden outages a common occurrence. On the other hand, turning an LED light bulb on and off, even repeatedly, does not affect or compromise its performance, making it far more reliable than other choices. When you opt for LED light fixtures in Toronto, you can expect up to 50,000 hours of lighting, saving hundreds of dollars in maintenance costs.
Cold Weather
Some light bulbs, halogen, and incandescent, in particular, do not work effectively when the temperature drops. Unfortunately, cold weather is not an unlikely occurrence in the city, so modern lights in Toronto should be equipped to adapt to the darker, more frigid days. Entryway chandeliers in Toronto, hallway lighting, and kitchen lighting are all essential to navigation and visibility around the home, so choosing LED light fixtures for these areas is best. LED light bulbs are reported to actually perform up to 5% better than alternative bulbs in cold temperatures.
Mood
Home light fixtures equipped with LED daylight bulbs can positively affect mood and stress. With daylight bulbs that mimic the light of the sun, bedroom chandeliers in Toronto and vanity light fixtures can increase serotonin production and reduce stress-induced hormones for a consistently better mood, especially during darker days when access to sunlight is minimal.
Illumination
Modern lights in Toronto with LED bulbs distribute light in 360º, and when paired with crystal chandeliers or other crystal light fixtures, bright daylight fills a room. With home offices, kitchens, and bathrooms, this exceptional illumination aids day-to-day tasks like grooming, makeup, cooking, and more to reduce eye strain and increase comfort at home.
Shopping LED Light Fixtures Toronto
At Siga Home Comfort, we stock a range of LED-powered modern lights in Toronto. All purchases of pendant lighting, vanity light fixtures, and chandeliers in Toronto online come with LED light bulbs included. If you're not sure if a light fixture is right for your home, you can set up an in-home estimate with an expert at Siga Home Comfort.
Need help finding the perfect chandeliers and light fixtures for your Toronto home?