Guide to Crystal Chandelier Installation in Toronto
Posted on
September 20, 2022
by
ADMIN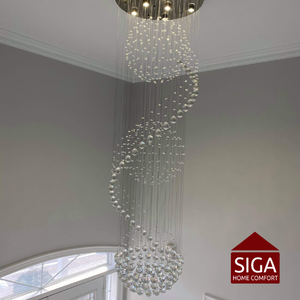 Once you comb through all the Toronto chandelier stores online and in-person and finally find the perfect light fixture for your property, the next order of business is installation. Where you decide to install your crystal chandelier in Toronto directly affects the space. To ensure you maximize the look of a room when you buy a chandelier online, it's important to ask about your installation options. At Siga Home Comfort, we recommend a trusted electrician for light fixture installation in the Greater Toronto Area, because we want to be confident you love your crystal ceiling lights every step of the way.
Here are some tips you should consider for Toronto chandelier installation.
Choose the Right Length Chandelier
If your crystal chandelier is installed too high, it can be too far out of eyeliner to enhance your space or be noticed. On the other hand, if you buy a chandelier in Toronto and install it too low or if it's too large for the space where you would like to have it installed, the chandelier will be too dominant and make it difficult for you to walk beneath it. The ideal clearance for a chandelier in the stairways, entryways, or foyers is around 7ft, but over tables and beds, you have a little more room. It's recommended that dining room chandeliers hang between 30 to 34 inches above the table.
To help determine the perfect length for your crystal chandelier in Toronto, schedule a free in-home consultation with the lighting experts at Siga Home Comfort. Our specialists will measure and assess the area to assist you in finding the best chandeliers in Toronto for your home
Check for Shadows
The purpose of home light fixtures is to illuminate your home, but when the wrong chandelier is installed or they're installed in the wrong place, you may be creating more darkness than light. Because of the translucence of K9 crystals, the chandeliers at Siga Home Comfort are far less likely than alternate light fixtures to cast shadows in your home.
Where to Install Chandeliers in Toronto
While there are definitely rooms that are more suited to crystal chandeliers, you can get creative with where you install yours. Traditionally, crystal chandeliers in Toronto were installed in large communal spaces to be seen by not just residents of a home but guests and even passersby. This would typically include grand stairways, entryways, and foyers. Now, chandeliers are found throughout the home in spaces where you are looking to add more flair or an element of luxury such as primary bathrooms, bedrooms, even walk-in closets. When it comes to chandelier installation there are virtually no limits. Whether you want a simple dining room chandelier or an opulent stairway chandelier, the choice is entirely yours.
Hire a Professional
Regardless where and what type of light fixture you need installed, intricate electrical work is usually required, so it's best to have it done by an experienced professional. A mistake with the wires can result in serious electrical damage.
Why Shop Siga Home Comfort
At Siga Home Comfort you will find a selection of home lighting options from vanity light fixtures and pendant light fixtures to beautiful crystal chandeliers for dining rooms, stairways, bedrooms, and more. Our crystal chandeliers are made with stunning and authentic K9 crystals designed to dazzle. When you shop light fixtures from our online lighting store, we include complimentary daylight LED light bulbs with your purchase that comes with a lifetime warranty.
Shop beautiful crystal chandeliers online and get yours delivered for free in the GTA,