Top Lighting Trends 2023
Posted on
May 26, 2023
by
ADMIN
If you are like many homeowners across the GTA, you want your home to look its best and reflect the modern time we live in. That means keeping up with changing trends, which can seem overwhelming, but we assure you, it's not as complicated as it sounds.
Lightning is often an afterthought when it comes to a home improvement project and yet it's such a critical part of any home. Not only does it illuminate the space, it sets the tone and can make a huge difference in the look and feel of a room.
How you intend to use the space is a huge factor in determining the best type of lighting to incorporate into a room. Lighting is more than just a practical fixture, it can also be used decoratively and complement the style of your home. In this article, we will break down some of the 2023 lighting trends you should consider for your home this year.
Kitchen table lighting trends
Who doesn't love a well-lit kitchen? A bright kitchen looks bigger and grander. Choosing the perfect lighting ideas for your home is about selecting the right colour, style and material, and determining where the light fixtures should be placed. Since your kitchen is one of the key areas in your home, make it look as charming as possible with lighting that shows off its features.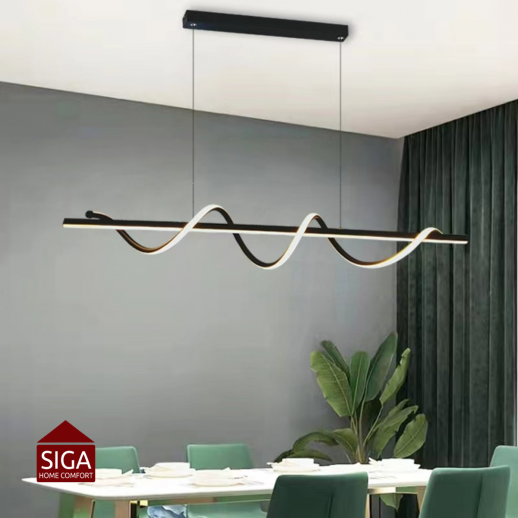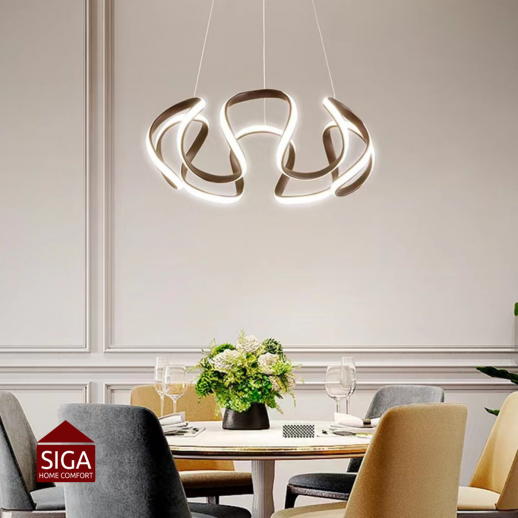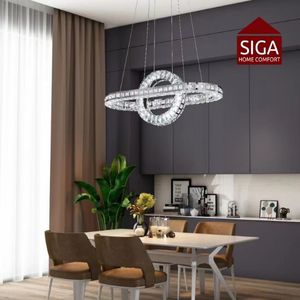 Over-sized Pendant lighting
Pendant lights have become a hot lighting trend this year and are one of the most versatile lighting options you can choose for your kitchen. We're seeing more pendant lighting over kitchen islands and dining tables as both a practical and decorative feature. Pendant lighting can create a captivating focal point and adds a nice touch to modern, traditional or contemporary finishes.
Glass pendants, in particular, are a prominent feature because of their translucent appearance. Pendants make a statement and statement pendants come in many different shapes, sizes, colours and textures that can make a room look all the more dashing.
Plaster lighting
This is a trendy lighting option that is gaining speed this year and will continue to be a huge hit next year. Plaster has many favourable qualities that make is a hit with homeowners. It is a natural material and its white, chalky colour gives off a clean and fresh look that is irresistible.
Plaster blends well in just about any application and can complement traditional and modern themes effortlessly. It is a lighting option suitable for both indoor living spaces and outdoor patios and porches.
Smart lighting
Technology has introduced many new ways to make practical elements of a room decorative and befitting of a modern space. Lighting designs have evolved over the years with the introduction of unconventional options. Standard bulbs are so yesterday, and smart lighting is the new kid on the block that caters to your changing lighting needs. This trend involves installing multi-functional lighting that can be adjusted to fit whatever purpose the lighting is needed for.
This year, we're seeing more voice-activated and motion-sensor lights being installed in creative ways that make the room look sleek and modern. Smart lighting options also come in a variety of energy-efficient options.

Dining room lighting trends
Good lighting is just as important at the dining room table as it is in the kitchen. So here are some ways you can brighten up your dining area.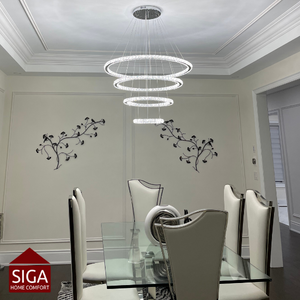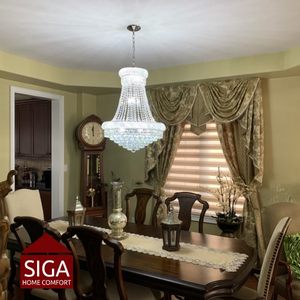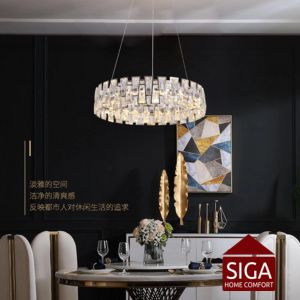 Over-scaled chandeliers
Chandeliers are nothing new, but many think that since they have been around for so long, they must be outdated. Not so. If you think chandeliers are over the top, well, they are – in a good way. Chandeliers add beauty and elegance to any space they're installed in.
The bigger, the better. Over-sized chandeliers have an even more dramatic effect. Consider multi-tiered chandeliers that are just as decorative as they are functional. As one of the growing lighting trends for 2023 and based on their popularity, we can expect this trend to continue well beyond this year.
Rattan and rope lighting
Natural, hand-made décor fixtures are definitely in. With more and more people incorporating more natural materials into their homes, rattan has become a solid choice for many homeowners. It gives off a very modern and boho feel, and is a welcome departure from formal and traditional lighting options.
Rattan, rope or cane can make a space look and feel more casual and homier. It is durable yet lightweight, and its colour and texture make any space look like a tropical haven.
LED lighting
LED lighting is here to stay, and we are seeing very clever ways of using LEDs to illuminate a room without the traditional bulb. Now LED lights are creatively built into fixtures in the home that make lighting more interesting and modern.
Special table lamps
Table lamps have gone through somewhat of a metamorphosis and instead of a traditional lamp, the market has made room for custom lamps that steal the show. This is particularly beneficial for renters who are unable to install a ceiling light of their preference because they do not own their home. In this case, going with special table lamps can allow you to still have versatility and customize your lighting to make the space your own.
Layered lighting
This is another trend that we're expecting to continue to grow in popularity and dominate the trends for 2023, particularly in indoor spaces. Layered lighting allows you to incorporate several different lighting options to enhance overall lighting and change the ambiance of the room as needed. This is often used in bathrooms.
Multiple types of lighting in the same room
You don't have to settle on one type of lighting in a given room. Have some fun and play around with your options. There's no right or wrong rule for your lighting in your home. Explore your creativity and incorporate multiple types of lighting solutions. Light up your home with a combination of lamps, recessed lights, chandeliers and more.

Conclusion
There are so many ways you can use lighting to make your home look spectacular. From kitchen table lighting trends to dining room lighting ideas, Siga Home Comfort is here to help you discover some trendy lighting options that will complement your home and create the look and feel you want for your home.
For more lighting tips and trends, get in touch with our friendly team today!