Guide to Finding the Best Kitchen Island Lights for Your Home
Posted on
January 25, 2023
by
ADMIN
Kitchen islands are standout design features that are appearing more and more in modern homes around the Greater Toronto Area and throughout Canada. Because your kitchen islands serve a distinct purpose, choosing beautiful and effective kitchen island lights are of the utmost importance. At Siga Home Comfort, we stock a vast selection of stunning crystal chandeliers and pendant light fixtures you can use to elevate your kitchen ambience and lighting.
Read on to explore tips for choosing the best kitchen island lights for your home.
Pendant Lights vs Chandeliers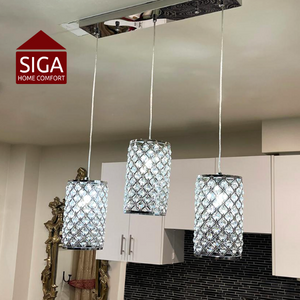 Typically, the popular choice for kitchen island lighting is pendant lights which are single-bulb light fixtures that are suspended from the ceiling. Typically when installed over kitchen islands, multiple pendant lights are hung in a row. Pendant lighting is a great choice for kitchen islands because they offer direct and effective illumination and minimize shadows. The task lighting aligns well with the functionality of kitchen islands, where many people spend working on food preparation or eating meals, and require unobstructed light.
Despite pendant lighting being a suitable option for kitchen islands, crystal chandeliers are an effective choice too. Straying from the status quo and opting for beautiful crystal light fixtures adds a unique element to your space, that's both eye-catching and still effective.
The Size of Your Island
For the best kitchen lighting, you'll need to consider the size of the island and your entire kitchen as you shop for light fixtures online. For help making an informed decision, Siga Home Comfort offers free in-home estimates, where we bring your top lighting choices to your home in the Greater Toronto Area, measure the space, and offer suggestions, so you can choose the best kitchen island lights.
If you're opting for pendant lighting, you'll need to choose more light fixtures as the size of your island increases. Usually, homeowners and interior designers opt for a minimum of 3 pendant lights and go from there. If you prefer a crystal chandelier, you don't want the width of the light fixture to exceed the width of your kitchen. For precise measurements, book an in-home estimate with the lighting experts at Siga Home Comfort.
Height of Your Kitchen Island Lights
When choosing your kitchen island lights, it's imperative to consider what you will keep on your kitchen island itself. For the best aesthetics and to avoid a clash between your decor and home lighting, you'll want to maintain a few feet of space between the highest point on your island and the lowest point of your light fixtures. If you prefer grand lighting in the form of crystal chandeliers, interior design experts recommend keeping island centrepieces to keep your lighting as the focal point.
The Right Light Bulbs
Shadows and ineffective lighting can entirely inhibit your ability to use your kitchen, so ensuring your light fixtures in Toronto are equipped with bright bulbs is essential. At Siga Home Comfort all of our crystal chandeliers and pendant lights come with LED light bulbs that are energy-efficient and offer 6000K daylight lighting.
Shop Light Fixtures Online at Siga Home Comfort
Don't settle for anything less than perfect for your home and kitchen lighting. Browse beautiful light fixtures in Toronto online at Siga Home Comfort and book an in-home estimate to see them in your space.