Your Guide to Bathroom Lighting
Posted on
November 06, 2020
by
Admin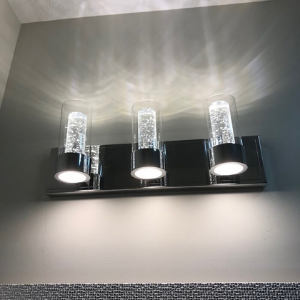 When considering a bathroom renovation, many homeowners think about new tile, fixtures, and even wall colour. However, bathroom lighting is an essential part of any home renovation and will set the tone and functionality of your new space. If you are renovating a bathroom, we recommend starting the process with your light fixtures. They will help you decide the mood of your new space and ensure you find fixtures, tiles, and paint that perfectly match your ideal vanity lighting. Even if you are not renovating a bathroom, a new light fixture can completely transform your space, making it feel brand-new. Here, we have created a helpful guide for purchasing your new bathroom lighting.
Ceiling Lighting
First, let's start with the basics. Your ceiling lighting will set the general tone for your bathroom. Depending on where you place your ceiling lighting, you can choose to have one focus feature or several light fixtures throughout the space. This will all depend on the size and design of your bathroom. Usually, ceiling lights provide ambient lighting for the bathroom space. There are lots of great lighting fixtures available through an online lighting store in Canada, such as Siga Home Comfort. They have pendant lights, modern chandeliers, classic fixtures, and more.
Vanity Lighting
Many bathrooms use vanity lights for task lighting. This means they provide a more focused illumination to help you get ready for the day. There are lots of different types of vanity lighting, but usually, they either flank the mirror or are installed above the mirror. This helps to provide extra lighting for doing your make-up and hair or for simple everyday use. Pendant lights can help provide a unique focused light to the vanity in your newly renovated bathroom.
Accent Lighting
Many homeowners consider accent lighting a feature of larger rooms such as a bedroom or living room. However, accent lighting is becoming more and more popular in modern bathrooms. Accent light fixtures can help to illuminate your space and provide variation in your ambient lighting. This could include something as simple as a lamp on a side table or something more unique like pendant lights over a couch or seating area in a larger bathroom.
Bells & Whistles
You want your bathroom to be a relaxing space that helps you get ready for a long day at work or a fun night out with friends. We recommend customizing your bathroom lighting to suit your specific style and preferences. This might include dimmer lights, a feature light fixture, or even a heat lamp!
At Siga Home Comfort, our online lighting store in Canada provides a range of light fixtures for any bathroom space. We are experts when it comes to lighting and our goal is to help you find the best fixtures for your space. We offer same-day and next-day shipping in the Greater Toronto Area and all our light fixtures ship free Canada-wide. For more information on any of our light fixtures, contact the Siga team today at 437-266-9123.