The Best Tips to Buy a Chandelier Online
Posted on
June 14, 2022
by
ADMIN
Crystal chandeliers in Toronto are gorgeous statement pieces that can elevate your space unlike other types of modern lighting. When you shop our online lighting store, you can find authentic crystal light fixtures that are unique at great prices. Whether you're moving or redecorating your home, choosing the perfect chandelier online can be tedious and stressful, especially when you're unfamiliar with online lighting stores in Toronto. Our team at Siga Home Comfort wants to provide you with simple online shopping for chandeliers in Toronto.
Below we have three recommendations on how to buy the best chandeliers in Toronto when online shopping.
Look at Reviews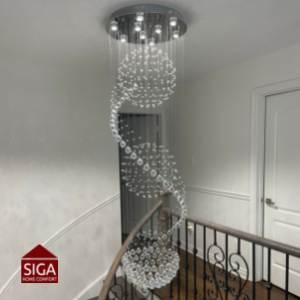 We understand that shopping online can be tricky - especially when the pictures aren't clear and you have no information on the brand. When shopping for anything online, it's always important to check the reviews to get a good understanding of the product and to see other customers' honest opinions. Reading what others looking for crystal light fixtures have to say about an online chandelier store gives excellent insight into the quality and performance of the product and price.
When leaving reviews, some people choose to add pictures which are also very beneficial to customers who are buying the item for the first time. An excellent place to check for legitimate reviews is Google Business which has real customers sharing their experiences with the company. It lets us know how many stars out of 5 it is rated, whether they liked it or not, and why.
Free Home Estimate
Finding an online light store in Toronto that offers free home estimates is great for shopping for crystal chandeliers online in Toronto. The price of the chandelier and installation can get quite expensive, so seeing the crystal light fixtures in your home alongside a reputable and trusted technician can help make your decision easier. Not only does Siga Home Comfort offer free home estimates, but we provide our customers with affordable prices that don't hurt your wallet. If you're unsure about a light fixture you see on our website, request a free in-home estimate in the GTA today.
Compare Pricing
As the cost of products and services rise, comparing pricing between lighting stores online can help you choose the right chandelier for you. Compare reviews, cost of estimates, and pricing to see what gives you the best deal for your buck. At Siga Home Comfort, we offer reasonable prices and have unique chandeliers for as low as $99.99. When you shop our selection of vanity light fixtures, pendant lighting, or entryway and dining room chandeliers in Toronto, we pay the tax and your purchase comes with complimentary daylight LED bulbs. Find your shine with a new crystal chandelier that brightens up any room.
Why Buy Chandeliers in Toronto from Siga Home Comfort?
Siga Home Comfort is your one-stop shop for crystal chandeliers in Toronto. We are a team of experts consisting of sales specialists, estimators, and home decor designers with the same goal in mind - to give you a brighter future.
Want to install one of our beautiful chandeliers for your bedroom, living room, kitchen, hallway or bathroom?