How to Stage Your Home with Crystal Chandeliers in Toronto
Posted on
August 11, 2022
by
ADMIN
Years ago, chandeliers were strictly for the formal dining room. Times have changed, and crystal chandelier lights in Toronto are now showcased in all home areas, including the kitchen, living room, bedrooms, hallways, and bathrooms. When staging your home, it's essential to have lighting that suits it best, and a modern crystal chandelier is a way to make your property stand out from others on the market.
Siga Home Comfort is one of the best online lighting store and chandelier stores in Toronto for home lighting, offering various modern lighting designs and styles. Choose from K9 crystal chandeliers, vanity fixtures, and pendant lighting to help increase the property value.
Here are some places to add a crystal chandelier to adorn up your place.
Kitchen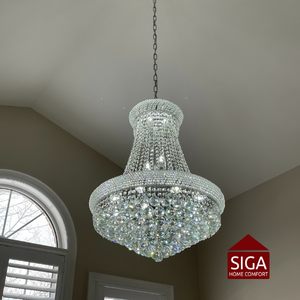 When selling your home, the property value is significant, and one of the best things you can do is decorate in a way that is appealing to the modern eye. The kitchen is the heart of the home, and showcasing a bright, open-spaced room with a crystal chandelier can make your house pop to viewers. When choosing a chandelier for your kitchen area, options include placing it over your table, island or peninsula or in the core of the kitchen. Crystal chandelier lights in Toronto are a great way to stand out from the crowd and quickly enhance your place's look and feel.
Dining Room
Adding a new dining room chandelier is an easy way to stage the tone in any room but especially communal spaces. Whether you design with modern or contemporary furniture and accents, lighting is the make-it-or-break-it for your home's stage appearance. Maximizing your space by adding gorgeous lighting can show visitors the value of your property and boost their interest in your home. If you want to increase the value of your home, shop for crystal chandeliers or pendant lights at Siga Home Comfort.
Bedroom & Bathroom
At Siga Home Comfort, we only use the highest quality K9 crystals for all of our chandeliers, and when placed in your bedroom, they can make your space look and feel more luxurious. Attract visitors when staging your home with crystal vanity or lighting fixtures in your bathroom while allowing the chandelier to be the star of your room. Install chandeliers in your room or bathroom to enhance your home's modern look and feel. The possibilities are endless for brightening your home with Siga Home Comfort crystal lighting.
Buy Chandeliers Online at Siga Home Comfort
Some may assume that buying crystal chandeliers and lighting online is difficult. With Siga Home Comfort's online chandelier store in Toronto, there's no need to stress. Request a free in-home estimate, and we'll bring your light fixture options to you before you purchase. Feel at ease knowing you can see your chandeliers and light fixtures in-home before choosing the one you like best.
A trustworthy and reliable online store is essential to our customers, which is why we pay the tax on all lighting, provide same-day or next-day free delivery in the GTA, and offer a lifetime warranty.