How to Incorporate Modern Lights Into Your Home
Posted on
December 10, 2020
by
Admin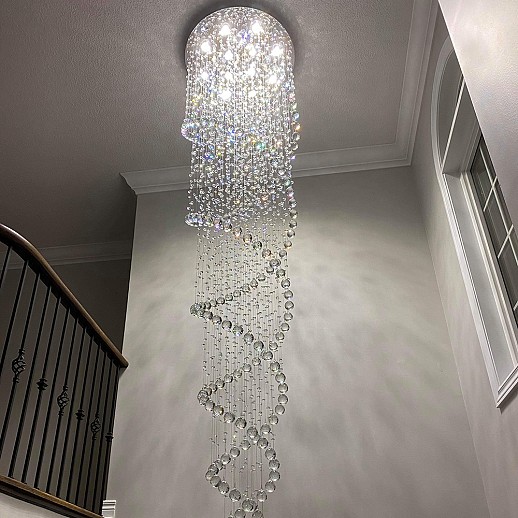 Interior design can sometimes be a difficult world to navigate. Keeping on top of trends and learning how to integrate them into your home can be a struggle. In today's interior landscape, modern lighting is becoming more and more popular. Many homeowners are finding unique ways to light up their homes using stunning and eclectic pieces. In this blog post, we have highlighted a few of the best ways to incorporate modern lighting into your home.
Big Lighting for a Big Space
The best places for modern lighting in your home are big spaces like entryways, dining rooms, and living rooms. Large, modern chandeliers are the perfect addition to any grand space, creating a stunning feature piece that illuminates the entire room. Modernize your entire house with the addition of a few, large light fixtures that capture the space and essence of your home. This might include a one-of-a-kind spiral chandelier or bubble chandelier. If you are looking for modern lights for Toronto homes, start with Siga Home Comfort, experts in modern design.
Mix and Match Different Light Fixtures
One of the easiest ways to integrate modern lighting into your home is to mix and match different light fixtures. Whether you are looking for modern chandeliers, statement drop lights, or accent lighting, you can mix and match pieces to suit your lighting and style needs. This can add a pop of modernity to rooms throughout your home and allow you to customize the lighting to each room. A wide range of modern lights in Toronto are available through Siga Home Comfort, including everything from vanity lights to large statement pieces.
Statement Pieces for Neutral Spaces
Neutral spaces in your home can often be overlooked and forgotten when it comes to interior design. Hallways, corners, and basements are not often at the forefront of our minds when we think of modern chandeliers. However, a stunning trend in modern lighting is using statement pieces to brighten otherwise overlooked spaces. Pendant lights in the bathroom? A chandelier over the stairs? All this and more are possible with Siga Home Comfort's range of modern lights in Toronto.
Siga Home Comfort Modern Lights
At Siga Home Comfort, we sell a range of modern lighting fixtures to suit any home. This includes large statement pieces like modern chandeliers and smaller vanity pieces for use as accent lighting. All our pieces are designed with both function and aesthetics in mind. We believe lighting is a core component of the feeling of a home and every homeowner should invest in modern pieces to transform their living space. All our lighting fixtures can be purchased online, shipped to your home, and even installed by our expert team. We offer free shipping throughout Canada and currently offer no tax on all orders, just in time for the festive season! For more information on any of Siga Home Comfort's lighting fixtures, or to purchase your next lighting piece, contact us today at 437-266-9123.