Things to Consider When Buying Light Fixtures
Posted on
November 10, 2020
by
ADMIN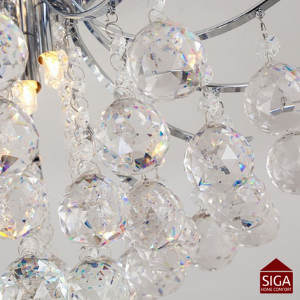 When it comes to light fixtures in your home, there are lots of important considerations. Whether you are looking to repair or replace a broken fixture or are looking to freshen up your space, a new light fixture can completely transform a room. Maybe you are looking for modern chandeliers or classic pot lights? Perhaps a one-of-a-kind statement piece? At Siga Home Comfort, we have everything you need when it comes to lighting fixtures in Toronto. In this blog post, we have outlined the most important things to consider when buying a new light fixture.
Room Size and Design
When buying a new light fixture, it is important to consider its destination. Are you looking for modern chandeliers fit for a grand entryway? Or pendant lighting for a kitchen island? The size and design of the room will greatly impact the light fixture you ultimately choose. You will want the design of the fixture to complement the interior design of your space. You will also want the fixture to comfortably fit in its desired place. Not sure where to begin? At Siga Home Comfort, our expert team can help you narrow down the style and size of light fixtures that will best fit your space.
Ceiling Height
Easily one of the most important considerations for a new light fixture, your ceiling height will likely dictate the size of the fixture you are able to purchase. If you do not know the height of the room in which you are going to install your new light fixture, we recommend measuring the space before making any final decisions. You can then ensure that the size of the light fixture will fit in your room without obstructing any windows or reaching low enough to hit anyone's head.
Type of Lighting
There are many different types of lighting that can be used to complement different spaces. Ambient lighting is great for cozy spaces like a family room or tv room. Bright fluorescent light is better for workspaces and kitchens. Many light fixtures can also be installed with dimmer light bulbs to allow for custom lighting that suits your ever-changing lifestyle.
Style of Lighting
Many homeowners picture pot lights and traditional chandeliers when they think of light fixtures. However, there are a wide variety of light fixtures that reflect almost any interior design style. From ultra-modern chandeliers to one-of-a-kind vanity fixtures, you can easily browse for lighting that reflects your personal style.
At Siga Home Comfort, we sell a range of lighting fixtures in Toronto. Our online lighting store makes it easier than ever to browse modern light fixtures and get them shipped directly to your door. Our expert team of designers and technicians can help you choose the right fixture for your space and even get it installed. We currently offer free shipping Canada-wide for any of our light fixtures. For more information on any of our vanity lighting pieces, or to get help from one of our expert team members, contact Siga Home Comfort today at 437-266-9123.