Which Lighting Fixtures Are Right for Your Room?
Posted on
October 06, 2021
by
ADMIN
Whether you're furnishing your new place or redesigning your home, choosing light fixtures is a big decision. Every room in your home serves a particular purpose and requires complimentary light fixtures that are functional and beautiful. If you're looking to adorn your home with modern lights in Toronto, browse our online light store and view our range of pendant lighting, vanity light fixtures, and chandeliers in Toronto to start designing your home lights.
Read on to learn how to pick the perfect lighting for every room in your home.
Coordinate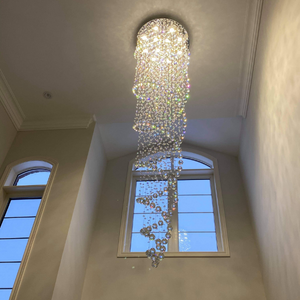 As you search for modern lights in Toronto, you'll likely stumble upon online lighting stores with various designs and styles. For a cohesive look to your home design, you'll want to pick lighting fixtures in Toronto that all follow the same theme. If you choose a crystal chandelier for your foyer, you'll achieve the most cohesive and complete look by following suit and installing matching crystal light fixtures elsewhere in your home. Shop our online light store stocked with crystal pendant lighting and chandeliers in Toronto for all your other light fixtures.
Entryway Chandeliers
When it comes to lighting fixtures in Toronto for your entryway, stairway, or foyer, there are many good options you can find based on your home's specific design. Many homeowners in the city prefer modern lights in Toronto, ruling out lampshades in favour of more contemporary choices like pendant lighting and chandeliers. The entryway is the room where visitors make their first impressions of your home, so this is typically the space where designers opt to go big. If you're thinking about going with a crystal chandelier in Toronto, consider the size of your foyer and its layout. If the space is large and open with natural lighting, consider a statement chandelier with a modern and unique design. You can also choose a grand classic chandelier like our Tower Crystal Chandelier for an eye-catching design. In the case of a smaller entryway, you can select 5ft crystal chandeliers or sleek modern lights in Toronto, like pendant lighting.
Kitchen & Dining Room Lighting Fixtures
While dining room light fixtures and kitchen light fixtures serve two different purposes, light fixtures in either room should match due to their proximity in the home and related functionality. Kitchen light fixtures should provide bright, practical task lighting for cooking, while dining room lighting is more about ambiance. For those looking for modern lights in Toronto, crystal pendant lighting is an excellent choice for kitchens, as their refined design meets contemporary kitchen decor. For your dining room lighting, a small crystal chandelier with the same crystals can disperse daylight lighting throughout the room for soft yet full illumination. Shop our online lighting store for real K9 crystal chandeliers in Toronto. All of our chandeliers and pendant lighting fixtures include LED daylight light bulbs.
Bathroom Light Fixtures
Depending on the size of your bathroom, an ensuite bathroom to a primary bedroom requires better lighting than a powder room. For small powder rooms, you can choose from flush wall mounts or vanity light fixtures. Hanging lights such as pendant lighting and chandeliers can impede the functionality of a powder room. In an ensuite bathroom, the focus should be installing a light fixture that provides good illumination to support daily morning routines like skincare, make-up, and grooming. If you want to take things up a notch, small crystal chandeliers can be installed over bathtubs to enhance your level of glamour.
If you need help choosing the right lighting fixtures in Toronto for your home, contact the experts at Siga Home Comfort for a consultation. We've got all your lighting needs covered.
Browse our selection of modern lights online today.