When to Upgrade Your Light Fixtures in Toronto
Posted on
October 24, 2022
by
ADMIN
As you open magazines and scroll through social media, you'll likely be greeted with photos of new and trending light fixtures in Toronto.
Like with most things found around the home, light fixtures in Toronto are subject to change based on new fads and age, so eventually, there comes a time when they must be upgraded to meet your unique interests and style choices. When choosing new lighting options for your home, it's best to reflect your personality, modern design choices, and timeless elements like crystal chandeliers to get the most longevity out of your decor.
At Siga Home Comfort, you can find a large selection of light fixtures in our online lighting store for every space in your home. We have got everything from dining room chandeliers and kitchen pendant lights to vanity light fixtures. For help choosing the perfect light fixtures for your home, schedule a free in-home consultation with one of our lighting experts today.
Looking for signs that it's time to upgrade your home lighting? Read on for indicators it's time for you to buy a chandelier online.
Aging Light Fixtures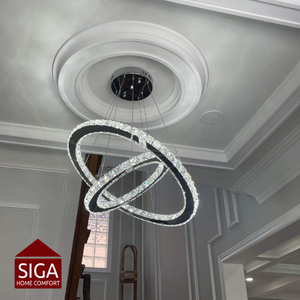 After a few years, you may notice some of the light fixtures in your home are not holding together anymore. Whether you're looking at wall sconces, vanity light fixtures, or chandeliers, signs of decay or deterioration are clear indicators that it is time for you to start searching for a replacement. Aging light fixtures in Toronto can look like they're missing pieces, rusting, or coming apart. Whether you visit a local lighting showroom or buy a chandelier online after decades of the same old light fixture, you'll find that your space will instantly look fresher and more cohesive.
Outdated Light Bulbs
The light bulbs in your light fixtures tell a lot about the age of your light fixture and its functionality. Previously many chandeliers and light fixtures in Toronto used incandescent bulbs, which would waste energy and drive heat. In fact, only about 10% of the energy produced from incandescent bulbs would go toward the light, while the other 90% would generate heat. Incandescent light bulbs also have very short life spans, especially when compared to LED light bulbs which could last up to 14 years.
All of our light fixtures and crystal chandeliers at Siga Home Comfort come with 6000K energy-efficient LED light bulbs included with your purchase, so you can illuminate your space better and at a lower cost.
Modern Lighting Trends
When you look at home decor influencers, magazines, and TV shows, have you noticed that fewer chandeliers in the media look like your own? This is often a sign that the light fixtures around you are not aligned with the most recent trends. While your lighting should reflect your personal taste, a lack of representation in the media means that you may want to choose a more modern lighting option or, alternatively, a classic crystal chandelier that has stood the test of time.
Buy a Chandelier Online at Siga Home Comfort
At Siga Home Comfort, we stock a variety of crystal chandeliers and beautiful light fixtures online at affordable prices, so you can find the perfect fit for your home. When you shop our lighting store, we will pay the tax and give you free LED light bulbs with your purchase.
View our selection of products today, or schedule a free in-home consultation with a lighting expert to see all your favourite light fixtures in person in the Greater Toronto Area.