What Light Fixtures are Trending Summer 2022?
Posted on
July 24, 2022
by
ADMIN
When decorating your condo or home, the most common approach is to balance your personal taste with new trends, which is especially true when buying light fixtures in Toronto. If you're transforming a newly purchased house into your forever home, it's best to favour your own style. Still, when staging a condo or selling a home, choosing the trendier fixtures available at lighting stores in Toronto is more effective.
Here's what you need to know about trending light fixtures in Toronto to guide you as you shop chandeliers, ceiling lights, and vanity lights online.
Crystal Comeback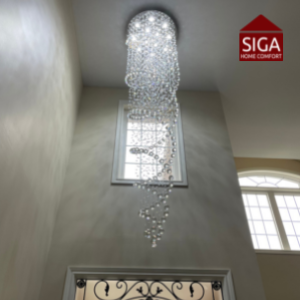 Where iron and industrial light fixtures were the most popular in the last few years, crystal chandeliers in Toronto are making a comeback. No matter where you turn, it seems there is a lighting store in Toronto with crystal light fixtures in their display window, from opulent chandeliers to simple ceiling lights. Crystal is one of those trends that seems to never quite go away.
If you're looking to buy a chandelier in Toronto, or really anywhere in Canada, you can shop at the Siga Home Comfort online lighting store for great prices on beautiful crystal light fixtures.
Daylight Lighting
In Toronto and the entire Greater Toronto Area, where it's winter and dark for the better part of the year, most homeowners and style trends favour bright, white, daylight lighting. These days, yellow lighting can leave rooms feeling stuffy and closed-off, while white lighting lends itself to the open concept space, a layout that most condos and homes have adopted. When you buy light fixtures online from Siga Home Comfort, we provide complimentary 6000K LED light bulbs with purchases of chandeliers and pendant lights. In addition to illuminating the space, LED light bulbs are also eco-friendly, and what's more in-style than sustainable living?
Chandeliers in Toronto
Much like the comeback of crystals, chandeliers in Toronto are more popular than ever. More and more, homeowners are looking for affordable and aesthetically pleasing ways to introduce elements of luxury to their homes and life and chandeliers in Toronto are certainly one way to do so. When you want to buy a chandelier online, you can choose from an array of options online for every room in your home, including dining room chandeliers, bedroom light fixtures, and more. You can also mix and match. If you can't decide which crystal chandelier is best for your home, schedule a free in-home consultation with a lighting expert at Siga Home Comfort in the GTA. We'll bring your favourite chandeliers and light fixtures so you can see how they suit your space.
Simple Pendant Lights
Simplicity in lighting and home decor will always be in style because of its ability to let a room shine. Simple pendant lights in Toronto are great for rooms with a lot going on already, especially kitchens. At Siga Home Comfort, you can shop simple pendant lighting from our light fixtures store online and get next-day or same-day delivery in the GTA.