Tips to Make Your Dining Room Chandelier Pop
Posted on
September 13, 2021
by
ADMIN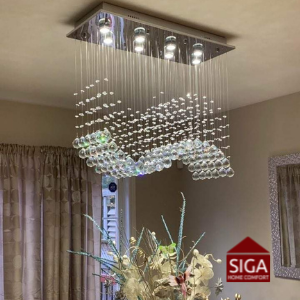 When it comes to decorating the dining room, you might think that there are so many other things to worry about before you start shopping for lighting fixtures. Lighting plays a vital role in creating a comfortable ambience, setting the mood and defining the look of your dining room. That's why one of the most essential design elements is a dining room chandelier. Like any modern lighting fixture, the perfect crystal chandelier becomes the focal point, setting the tone for the rest of the room.
Crystal dining room chandeliers are a distinct entity in your home that displays a sense of elegance and opulence, drawing attention to themselves or the dining table below them. When you show light fixtures online, it can be challenging to find the right balance between spotlighting what you want without distracting those around it or going overboard with an ostentatious show for guests. When shopping for dining room chandeliers online, there are different factors to consider depending on the style you choose. Here are some do's and don'ts when shopping for a dining room chandelier online.
Chandelier Shopping DOs
Consider Functionality: Before beginning your search for light fixtures online, zero in on the purpose of your dining room chandelier instead of the style as you start to browse. By understanding the functionality you want from your dining room chandelier before visiting an online lighting fixture store, like Siga Home Comfort, you will be able to rule out light fixtures that don't serve your room.
Consider Your Entire Room Design: Match your dining room chandelier with the setting of the room. If the room has a formal setting for entertaining guests, you'll want more formal lighting, such as the tower crystal chandelier. If your space doubles as a family room, you will want to be more flexible with your style choice.
Consider How Light Fixtures Illuminate: Determine how well-lit you need your dining room to be, do you need dim lights for ambience lighting or the option to fully illuminate the room. Once you know the kind of light your dining room requires, you can look at light fixtures online to see how many lights each crystal chandelier or pendant light fixture has. You can get better insight into your lighting needs by turning off your lights to gauge the upper and lower limit of the number of light fixtures you may need and see what locations make a particular spot too bright or dim. To understand what type of lighting works best for your space, Siga Home Comfort offers free consultations to help you choose the perfect chandelier online.
Consider Which Light Bulbs: When you shop for light fixtures online in Toronto, look into what light bulbs come with your chandelier with purchase. If you have the option to go with LED light bulbs instead of CFLs, they're more expensive but offer better quality illumination and have a longer lifespan. When you shop our online light store, you get 6000K daylight LED bulbs included with all crystal chandeliers courtesy of Siga Home Comfort.
TIP: The type of chandelier you decide on will primarily reflect your home's aesthetic. Chandeliers made with crystal and glass always provide a simple and elegant look. Plus, they work well with any style and theme. Siga Home Comfort has affordable crystal chandeliers available online. Shop our collection here.
Online Chandelier Shopping DONTs
Limit Your Options: Don't limit your shopping to just one style or one brand. You can have various styles in your dining room that can come together cohesively even if you don't expect it. Crystal chandeliers are classic light fixtures that can take a formal modern dining room up a notch without clashing with existing decor.
Prioritize Price over Quality: Don't get too hung up on the price. If you see something you like that is high quality, go for it! When you opt for a real crystal chandelier for your dining room, you will get the added benefit of longevity. Lower-quality light fixtures may seem like a great deal at first, but low-quality materials can break down faster. At Siga Home Comfort, we offer a lifetime warranty on all our light fixtures and are proud to offer affordable pricing so everyone can build their dream dining room.
Forget About Your Existing Room Decor: Sometimes, when shopping online lighting stores, homeowners will forget to consider where the furniture fits and how wall colours interact with lighting and chandelier design. Other times, they will judge the size of chandeliers by how they appear in the product photo. Instead, read the product's measurements or reach out to a customer service agent if you're not sure how a chandelier will fit in your dining room.
The Siga Home Comfort team is equipped with lighting experts. We know how important it is to get the right look and feel for your home. That is why we offer a great selection of affordable dining room chandeliers online. With styles ranging from traditional and classic to modern and contemporary, we have simple but elegant chandeliers for any dining room.
Contact us today for a free consultation or browse our chandeliers online.