The Benefits of Light Fixtures in Toronto with K9 Crystals
Posted on
September 03, 2021
by
ADMIN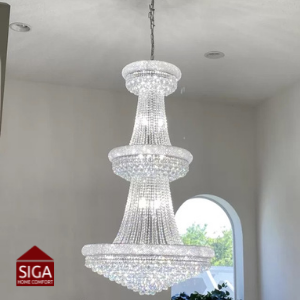 As you shop for modern lights in Toronto to furnish your contemporary home, there are many elements to consider. From bulbs to design, it's easy to find yourself overwhelmed with options. If you're looking for a classic take on a modern light fixture, you might be interested in crystal light fixtures. At Siga Home Comfort, we offer a full range of crystal chandeliers, pendant light fixtures, and vanity light fixtures adorned with K9 crystals perfect for any entryway, dining room, kitchen or bedroom.
Read on to learn how K9 Crystals can benefit your modern light fixtures in Toronto and your home.
Benefits Of Modern Crystal Chandeliers
As a homeowner or business owner looking for lighting fixtures in Toronto online, crystal chandeliers and pendant light fixtures offer some of the most versatile options. Available in sizes, patterns, colours, and prices, you're bound to find one that suits your personal style and budget.
Timeless
There are many design fads. Right now, the most trendy modern light fixtures in Toronto bare minimalist designs and iron bases. While that is undeniably a gorgeous look, they weren't in style just a few years ago, and who knows how long they will last in the future. Crystal chandeliers have been a classic design element in homes for years. When you choose light fixtures in Toronto that are filled with tasteful crystals, you can tap into an interior design choice that is truly timeless.
Versatile
Depending on the crystal chandelier you choose, it could feel more classic, eccentric or modern. K9 Crystals in-home light fixtures are not limited to a single design or even a single room. A crystal chandelier can complement a range of interior themes. They are truly flexible furnishings that magically suit almost any space in which they are installed.
Low Maintenance
Compared to modern light fixtures bought in Toronto, crystal chandeliers are actually reasonably easy to clean and maintain. Typically, modern chandelier pieces require extensive cleaning procedures. With crystal chandeliers, an annual deep cleaning with standard household products combined with regular dusting is all your crystal chandeliers, and light fixtures really need to maintain their elegant glow.
Energy Efficient
K9 crystal chandeliers are both cost-effective and energy-efficient. They only require low wattage bulbs because the reflection of the bulbs scatters to effectively illuminate the room. By making use of fewer bulbs, you can save on your energy consumption. BONUS, all crystal chandeliers sold at the Siga Home Comfort online lighting store come with LED light bulbs included.
Budget-Friendly
Homeowners often decide to invest in a chandelier light fixture for their Toronto home as a way to add value. While you may think that a crystal chandelier is too far out of your budget, you would be mistaken.
While crystal chandeliers were once considered a light fixture only suitable for the ultra-wealthy, many middle-class homes now have beautiful crystal chandeliers installed in their entranceway. Siga Home Comfort has some of the best lighting fixture prices online in Toronto. Take advantage of our affordable prices now!
Shop K9 Crystal Chandeliers In Toronto
Modern crystal chandeliers are designed to illuminate a room with elegance, sophistication and luxury. They are great for accentuating the architecture of any formal room, including dining rooms, living rooms, stairways, and foyers. The light produced by these fixtures is soft and diffused, which creates an even glow throughout the room.
If sophistication, elegance and functionality are what you are looking for, why not try a modern chandelier that features K9 crystals?
Shop our selection of crystal chandeliers anytime online. If you still need help deciding the type of lighting fixture right for you, contact us today!