Signs It's Time to Redecorate with Light Fixtures in Toronto
Posted on
May 25, 2022
by
ADMIN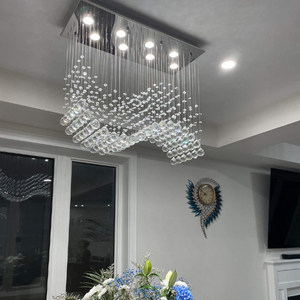 Regardless of whether you live in a condo or house, your home is a reflection of you. Every so often, reassess your home decor and light fixtures in Toronto to see where you incorporate contemporary furnishings and modern lights in Toronto that feel like the most current version of you. Redecorating or upgrading your home doesn't have to be a chore. With beautiful chandeliers in Toronto and crystal ceiling lights online, you have a wide selection of options to personalize your space for a feel that you love.
So, how do you know if it's time to upgrade your old light fixtures in Toronto to modern lights?
Popular Lighting Trends
One surefire way to tell if your lighting is no longer considered a modern light in Toronto is if you don't see similar light fixtures elsewhere in the city, from other homes to showrooms and lighting stores online. While it's great to be unique, it's also okay to want to be on trend with modern lights in Toronto. If you're looking for a compromise, consider modern crystal chandeliers in Toronto. At Siga Home Comfort, our selection of crystal ceiling light fixtures in Toronto comes in a variety of styles, shapes, and sizes. The crystal accessories add a classic flair to a modern light fixture.
Chandelier Light Bulbs
In the last few years, light bulbs have changed dramatically. If your chandeliers only use outdated incandescent light bulbs, then it's probably time for a change. LED light bulbs last far longer than alternative bulbs, they're more energy-efficient and drive less heat. As an added bonus, when you buy chandeliers nearby Toronto from Siga Home Comfort, you get daylight LED bulbs included with your purchase.
Is Your Light Fixture Illuminating?
Many people have light fixtures in their homes that technically work and are aesthetically relevant but are not effectively illuminating the room in which they are installed. If you find that your current chandeliers in Toronto are not effectively lighting the space they're intended to brighten, it's definitely a good time to look for a new ceiling light fixture in Toronto. Crystal light fixtures enhance lighting with LED bulbs and K9 crystals that softly distribute light instead of blocking it. When you choose Siga Home Comfort, you can opt for a free in-home estimate, where one of our modern light experts will visit your home with the light fixtures of your choosing so you can ensure that you'll get the shadow-free lighting you adore.
Do You Love Your Current Light Fixtures?
Above all else, your home decor and light fixtures should be a reflection of your style. You should walk around your home truly appreciating the ceiling lights that adorn it. If you don't absolutely love the look and feel of your home lighting, then consider your invitation to buy a new chandelier.
When you shop ceiling lights online at Siga Home Comfort, you can find a range of stunning light fixtures for every room in your home. So you can buy a chandelier online for your entryway and dining room chandelier to match.
Contact us today to learn more about our selection of chandeliers and ceiling lights.