Select The Right Lighting Statement for Your Home
Posted on
June 23, 2021
by
ADMIN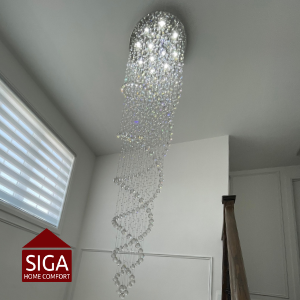 Finding the right modern lighting choices that complement your interior design can be one of the most challenging tasks of redecorating your home. Not only does good lighting help set the mood, but lighting can also be an effective way of showing off your personal taste. A light fixture in your dining room must make a statement and serve as the room's centrepiece that other design elements tie into.
When looking for statement lighting fixtures online, there are many Toronto-based companies to choose from. For example, Siga Home Comfort has a variety chandeliers available online that would make perfect statement lighting pieces. Before shopping for lighting fixtures on our online store, read our tips on how to choose the statement lighting fixture that is perfect for your home.
Balance Is Key
Many Toronto homeowners know that quality lighting is key to bringing together the feel and look of your home. When shopping for lighting fixtures online in Toronto, you need to consider the architecture of the space. You want to choose a statement lighting piece that will help balance out the area. You can use a statement lighting piece to create symmetry or act as a striking focal point.
When looking for statement chandeliers online, remember to measure the visual weight and proportion of the piece to the room.
Liven It Up Or Go For Timeless
A statement piece can be a personal expression of your personality. You could opt for something more eccentric like the wavey chandelier. The large-scale K-9 crystal chandelier provides soft lighting critical for a statement fixture in your dining room. Of course, you could also go for the timeless look. For the die-hard classic, you can't go wrong with a 9ft spiral chandelier from our collection.
Make Use of Open Space
Many new Toronto homes are being designed with high ceilings and open staircases. This extra empty space is a great area to showcase a gorgeous statement chandelier lighting fixture. When shopping for chandeliers online, you want to take note of the wattage power. You don't want a chandelier fixture that creates too much glare or is underlit. Get in touch with our team to help you understand the function of your room, and let us help you select the best lighting for your home.
Layered Lighting Is In
As we said, lighting is the critical component of a seamless interior design. Statement lighting doesn't have to mean a singular fixture. If you have found a lighting fixture that you really like, and it works, why not layer the lighting? One pendant made into three layered pendant lights can really do wonders for your kitchen area.
With literally hundreds of different types of statement lighting fixtures to choose from - selecting the perfect piece for your home can be overwhelming. At Siga Home Comfort we offer free consultations. We will help you decide on an interior design that reflects your personality and then find you the perfect statement piece.
Get in touch with us today, or start browsing our online lighting store for your ideal statement lighting fixture.