Pendant Lighting vs Chandeliers: What's the Difference?
Posted on
November 08, 2021
by
ADMIN
Modern lights in Toronto come in a versatile array of shapes, designs, styles, and applications. As you browse in-store or through online lighting stores for popular and contemporary light fixtures in Toronto, you'll likely be overwhelmed with attractive options, each with an individual style and purpose. The possibilities are endless, from vanity light fixtures and wall mounts to crystal pendant lighting and chandeliers in Toronto. As a result, it can sometimes be challenging to differentiate one from the other and its benefits.
As you look to furnish your home and design the perfect space with modern lights in Toronto, we've put together a short and easy guide to help you navigate the differences between pendant lighting and chandeliers in Toronto. Read on to learn more.
What Do Pendant Lights and Chandeliers Have in Common?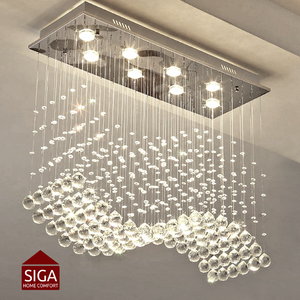 Sometimes discussed interchangeably, pendant light fixtures and chandeliers are suspended from the ceiling and typically used as modern or classic statement lighting fixtures in Toronto. Because of their eye-catching design, these light features are often used in communal areas of the home where you're likely to invite guests while entertaining. However, this doesn't mean that pendant lights and chandeliers don't find their way into bathrooms, bedrooms, and closets.
What is a Pendant Light? Like what the name implies, a pendant light is a single bulb light fixture suspended from the ceiling like the pendulum of a classic grandfather clock. Pendant lighting can be found individually or in clusters for a chandelier-like installation.
What is a Chandelier? Like pendant lighting, chandeliers also dangle from the ceiling. The difference with chandeliers is that, unlike pendant light fixtures, chandeliers usually have multiple light bulbs that branch out for a more opulent design. At Siga Home Comfort, we have a wide range of crystal chandeliers available on our online lighting store that further disperse light with K9 crystals, all of which come equipped with 6000K daylight light bulbs.
Choosing Modern Light Fixtures for Different Homes?
With more condos popping up across the city, homeowners might consider which lighting fixtures look better in smaller spaces. Pendant light fixtures can be added and removed accordingly to suit the available space in your condo or house. You can also find crystal chandeliers in Toronto in many different sizes to best compliment any room in your home. So even if you feel as if a grand chandelier in Toronto will crowd your space, you can find many smaller versions of modern chandeliers available in our online lighting store. Generally, pendant lights are suitable for kitchen lighting, where light needs to be more focused and less ambient. On the other hand, crystal chandeliers in Toronto are suited towards foyers and stairways where they can shape the first impression of guests, and there is typically ample space for these modern lights to fall wide and long. Dining room lighting is a great room for either, depending on how much lighting you need and what suits the rest of the furniture present.
When it comes to home lighting, there are so many options, and while each light fixture has an intended purpose, there's no reason you can't explore and get creative with your lighting options. If you're interested in learning more about crystal chandeliers and other modern light fixtures in Toronto, contact Siga Home Comfort for a complimentary consultation.