Modern Lighting Trends in 2022
Posted on
December 22, 2021
by
ADMIN
If you're looking to redecorate your home or commercial property in the new year, 2022 brings an opportunity to introduce modern lights in Toronto that are up to date with emerging interior design trends. While fashion is ever-changing, popular modern light fixtures in Toronto, like crystal chandeliers, are likely to stand the test of time, even as new styles become available. Start browsing the Siga Home Comfort online light store for chandeliers and other modern lights in Toronto for 2022.
Here are 4 design trends to keep in mind as you search for the perfect light fixtures in Toronto.
Neutral Colours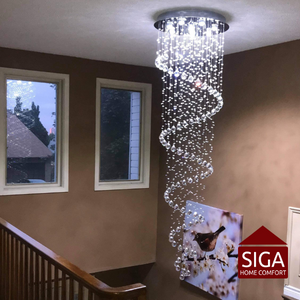 In the 1960s and 1970, primary colours were all the rave for interior decor. Modern light fixtures in Toronto favour neutral colours and basic designs that pair well with spacious living areas as we progressed into contemporary times. Crystal chandeliers and transparent pendant light fixtures in Toronto showcase the layout and design of any room without interfering with the carefully crafted colour palette.
Open Concept
Open concept is not new to interior design in the city. The trend has been going strong since the 1980s and will carry into 2022. Focused on increasing space and, more importantly, enhancing lighting, the open floor plan has been a transitional decision from architecture to design more than it can be considered a limited trend. As a result, it's a pivotal factor to consider as you shop our online light store. Depending on the size of your room and window locations, choose light fixtures in Toronto that contribute to the room's lighting. At Siga Home Comfort, we stock pendant light fixtures, flush wall mounts, vanity light fixtures, and chandeliers in Toronto equipped with K9 crystals and LED lights that fill any room with soft daylight lighting.
Chandeliers
Traditionally a light fixture that signified affluence and luxury, affordable prices, and beautiful designs make opulent crystal chandeliers in Toronto an accessible addition to any home. At Siga Home Comfort's online light store, you can find beautiful chandeliers for entryways or foyers that are genuinely stunning. Chandeliers are finding their way into rooms that are less expected. Mini crystal chandeliers in Toronto are a great fit for bedrooms, bathrooms, and even walk-in closets. The simple addition of a luxury light fixture in Toronto adds a breath of luxury throughout the home that's exciting and beautiful.
LED Daylight Lighting
The quality of light emitted from a light fixture in Toronto is as essential as the design elements themselves. As such, LED light bulbs are more important with every passing year. Long-lasting, bright lighting that effectively illuminates a room allows for better functionality and usability of the home. Kitchens, home offices, bedrooms, and bathrooms all depend on good illumination, whether it's getting ready for the day and applying makeup or getting dinner ready for the family.
Shopping Siga Home Comfort for Light Fixture in Toronto
How you decorate, your home is up to you and should reflect your personality. To find modern lighting options in Toronto that speak to your style, visit the Siga Home Comfort online lighting store. When shopping with us, your purchase comes with complimentary LED light bulbs and delivery in Greater Toronto.