Luxury Condo Lighting Trends
Posted on
July 05, 2021
by
ADMIN
Lighting is essential to every home, but it is especially pivotal to luxury condos and apartments. When you have a small space to work, it can seem daunting to try and create a welcoming and relaxing home environment. The right lighting can really be the make-it or break-it factor that can make or break the ambiance you desire.
Even if you are not a professional interior decorator, you can find stunning, modern lighting fixtures from a Canadian online lighting store like Siga Home Comfort.
We have some of the best modern lights in Toronto. You are sure to find the look you want for your living space by shopping at our online lighting store. Before you start shopping, browse the latest condo lighting trends for 2021 and elevate your space.
Matte Finish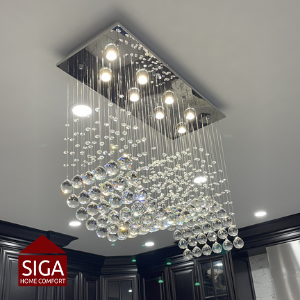 Matte finishes have gained a lot of popularity recently in comparison to light fixtures with glossy finishes. The contemporary appeal of a matte light fixture embraces simplicity to add a modern appeal to your condo, which is further enhanced by colours such as grey, soft gold, and rose fold. Incorporating modern light fixtures with a matte finish can strike a perfect balance between showing off your unique style and creating an inviting atmosphere.
Elegance Style
If you favour stunning fixtures, sparkling crystals and incorporating elements of bourgeois culture, you can shop k9 crystals at Siga Home Comfort, our Canadian online lighting store. These lighting fixtures are refined and elegant, boasting breathtaking crystals and designs that break the conventional industrial style that created a manufactured-like look. Our various chandeliers will perfectly complement the modern look and feel of your place.
Clean Lines & Forms
Over the last few years, there has been a shift in design preferences towards a cleaner and more minimalist look. This shift in preference is particularly noticeable in the types of lighting fixtures that have been in high demand in 2021. Many condo owners are adopting the "less is more" mentality. The change in taste has led to increased demand for low-profile, simple lighting fixtures that feature soft colours and geometric designs.
High-Quality Classics
Creating a luxurious kitchen space that gives off a welcoming yet relaxed atmosphere used to be complicated. Thanks to the latest trends in incorporating pendant lighting over a large kitchen island, creating a luxurious yet comfortable kitchen decor is simple! Check out our selection of modern pendant light fixtures online!
Colour Trends To Think About
Rose Gold Colour
Rose gold is a great way to include metallic and elegant aspects into the design of your condo. This warm hue is perfect for any modern light fixture.
Rattan
Incorporating this elegant material is an easy way to bring richness and texture into your condo. It's versatile and can be mixed with varying architectural styles, making it super easy to add to your home.
Contrasting Colors
Classic white walls are a thing of the past. This year, bold, bright shades are trending. You can achieve this look by including modern light fixtures that accentuate the bright colours in your place.
At Siga Home Comfort, we have some of the best prices of any online lighting store in Canada. Our customer service and custom installation services cannot be beaten!
Check out our website to browse our selection of beautiful modern light fixtures. If you need help designing your condo space, give us a call! We offer free consultations!