Light Fixture Holiday Gift Guide in Toronto
Posted on
December 12, 2022
by
Admin
Holiday shopping can be a lot of fun, but when you can't figure out the perfect gift for someone important in your life, things can get a lot more frustrating very quickly. But for those who aren't into gadgets or clothes may be more interested in interior design and their home. Consider buying a chandelier in Toronto or a light fixture they've had their eye on. At Siga Home Comfort, we stock dozens of beautiful chandeliers and light fixtures in Toronto that would make anyone smile this holiday season.
Keep reading for a guide to the best chandeliers, pendant lights, and vanity light fixtures for the people on your wishlist this season.
Opulent Chandeliers in Toronto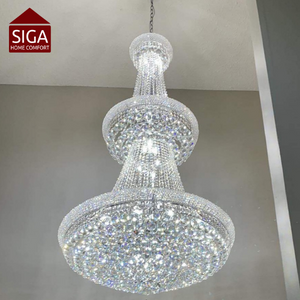 We all have that one person in our life who loves a little bit (or a lot) of decadence. Crystal chandeliers at Siga Home Comfort are adorned with sparkling K9 crystals that dazzle and dance in the daylight and light of their LED bulbs. Large dangling chandeliers are perfect for grand stairways and entryways with high ceilings that demand an attention-grabbing focal point. For these spaces, we recommend the classic Crystal Tower Chandelier, the 3-Ball Chandelier, and the 9-ft spiral chandelier, which draws your eye as you and your visitors move up and down your staircase.
Stylish Kitchen Lighting
Whether you're shipping for a foodie, an entertainer, or someone who loves cooking and baking, effective light fixtures in Toronto can transform their kitchen experience. Explore pendant lights for kitchen islands and counter spaces or breakfast nook and dining room chandeliers in Toronto that create the perfect ambiance in these spaces. With a vast selection of crystal light fixtures in Toronto, you can even opt for both kitchen pendant lights and chandeliers that complement each other to take the entire space to the next level. One of the most popular pendant lights at Siga Home Comfort is the Bubble Glaze Pendant Light Fixture and the Ring Pendant Lights, which come with as many rings as four rings. Both of these modern and elegant lighting options offer bright, functional lighting that is perfect for the busy kitchen space.
Vanity Light Fixtures
Vanity light fixtures in Toronto are more than just a bathroom upgrade. High-quality vanity lighting is an excellent option for makeup lovers. Our selection of bathroom lights provides bright daylight LED lighting that makes everything from getting ready in the morning to filming unique looks easier than ever. We have something for every style. Choose from one of four standout bathroom vanity light fixtures in Toronto at Siga Home Comfort, including the Ambience Vanity Light, Ice Glace Lights, Jewel Crystal Lighting, and the Diamonds Vanity Light Fixture.
Shopping Light Fixtures in Toronto with In-Home Estimates
If you're planning on gifting yourself a beautiful chandelier or light fixture this year, make sure it's the best for your home with a free in-home estimate with the Siga Home Comfort team. Our lighting experts will measure your space, and bring a selection of beautiful chandeliers, pendant lights, and vanity light fixtures based on your taste and our assessment, so you can get the most out of your new home lighting.