How to Stop Shadows from Bathroom Light Fixtures Toronto
Posted on
February 16, 2023
by
ADMIN
Bathrooms are one of the most important rooms in a home, but they are often the most neglected when it comes to lighting. Poor lighting in a bathroom can not only make it difficult to see and carry out necessary tasks, but it can also cast shadows and make the space feel dark and uninviting. If you're tired of the shadows from your bathroom vanity lights in Toronto and want to improve the look and feel of your bathroom, there are a few simple tips you can follow in search for new light fixtures in Toronto to decorate a shadow-free bathroom.
At Siga Home Comfort, you can shop beautiful bathroom light fixtures and buy chandeliers online or in-store with guidance from one of our leading lighting experts. Read on to learn how to minimize shadows from your bathroom.
Choose the Best Light Fixtures in Toronto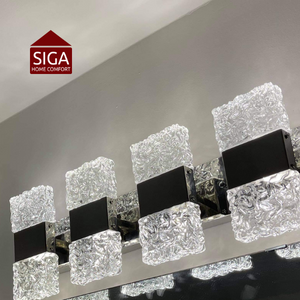 The first step in stopping shadows from bathroom light fixtures in Toronto is to choose the right light fixtures. Bathroom vanity lights are a popular choice for bathroom lighting, but they can cast shadows if they are placed too close to the mirror. To avoid this, choose a fixture that is at least 28-30 inches above the sink. If you have a larger bathroom, you may want to consider installing multiple light fixtures to ensure even lighting throughout the space.
Vanity Light Fixture Installation
Another way to eliminate shadows is to choose lights that are placed on both sides of the mirror. This will ensure that your face is evenly lit and that there are no dark spots or shadows. If you can't install lights on both sides of the mirror, try installing a light above the mirror that is aimed downward to provide additional lighting.
LED Light Bulbs
In addition to choosing the right light fixtures, it is also important to choose the right light bulbs. Fluorescent bulbs are often used in bathrooms, but they can cast a harsh, unflattering light that can make your skin look dull and lifeless. To avoid this, opt for soft white LED lights instead. These lights will provide a warm, inviting glow that will help you look your best.
Consider installing a dimmer switch to control the brightness of your bathroom lighting. This will give you the ability to adjust the lighting to your preferences and create the perfect ambiance for your bathroom. Whether you want bright lighting for applying makeup or a softer glow for a relaxing bath, a dimmer switch will allow you to create the perfect lighting for any occasion.
Shop Light Fixtures & Chandeliers at Siga Home Comfort
Shadows from bathroom light fixtures in Toronto can be a real problem, but they can be easily eliminated with a few simple steps. By choosing the right light fixtures and light bulbs, you can create a bright, inviting, and well-lit bathroom that you will love spending time in. If you need help finding the right lighting solutions for your bathroom, be sure to reach out to Siga Home Comfort. Our team of lighting experts will help you find the perfect lighting solutions to suit your needs and budget. Whether you are looking for bathroom vanity lights, light fixtures, or anything else, we have you covered. For help finding the perfect bathroom lighting solutions, from vanity light fixtures to crystal chandeliers in Toronto, book a free in-home estimate or showroom visit.