How to Perfect Your Bathroom Lighting
Posted on
July 16, 2021
by
ADMIN
Achieving the perfect bathroom lighting is an incredibly important decision in perfecting the design and aesthetic of your home. The average person spends an excess of 30 minutes every day in the bathroom but doesn't even realize how significant this room is in our daily lives. From choosing the hue of the light, the design of your vanity light fixtures, and its placement, many elements come together to create the ideal bathroom lighting.
You can find a full range of lighting fixtures online from Siga Home Comfort. Our high-quality crystal lights are equipped with LED light bulbs that are perfect for your bathroom.
Getting your lighting right in the bathroom can determine whether you start your day off on the right foot. Read more to understand the basic concepts for choosing the best vanity light fixtures that will help perfectly illuminate your bathroom.
What Look Are You Going For?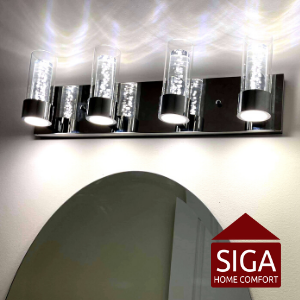 When shopping for lighting fixtures online, sometimes it can be overwhelming to see all of the different vanity light fixtures available to choose from. The best place to start is deciding what theme you want to aspire towards. Are you wanting to do a more contemporary look, or maybe you love the classic vintage look? Do clean line and minimalist vanity lights feel more your style, or do you love the look of frosted glass? The experts at Siga Home Comfort can help you decide which is more your style. We work with you to choose the perfect vanity light fixture to enhance the beauty of your bathroom.
Vanity Light Fixture Placement
Proper wattage, fixture size, and installation placement all play an essential part in determining how well a light fixture illuminates a room. Vanity lighting fixtures should ideally be placed above mirrors to reduce shadows and properly brighten your reflection as you get ready for your day.
Factors that affect where you can mount your vanity light fixture include:
Available space for placement around mirrors
Your design preference
Consider outdoor and natural lighting angles
How many lighting fixtures you are using
If you're not sure about how to best install your bathroom fixtures, the lighting specialists at Siga Home Comfort offer high-quality, custom installation services so you can optimize the placement of your light fixtures for the best result.
What The Experts Recommend
When you order lighting fixtures online for your bathroom, it's essential to consider how the lights will work with your vanity fixtures, mirrors, and whatever other decor and fixtures are present in the room. The lights you choose should tie every element together for a cohesive and functional finish.
Any lighting professional will tell you that the optimal placement for bathroom lighting is on both sides of a bathroom vanity mirror. The general rule of thumb is to place your vanity light fixtures 65-70 inches above the floor - aiming for close to your eye line.
Mounting your vanity light fixtures on either side of a mirror is viewed as the best for illuminating your face. Sometimes, this might not always be an available option. The ideal height, when placed above the mirror, would be around 78 inches from the ground. We also suggest getting high wattage bulbs for a full lighting effect.
Choose Siga Home Comfort for Elegant Lighting Fixtures Online to Your Door
Choosing the right vanity light fixtures for your bathroom can help you redefine the look and feel of the entire bathroom. When buying beautiful vanity light fixtures online, Siga Home Comfort has some of the best lighting fixtures online to choose from. Check out our selection of vanity light fixtures today!
We offer a FREE consultation to all customers - we are here to help you choose the best modern lights in Toronto and all over Canada.
Get in touch with us today!