How to Coordinate Your Light Fixtures in Toronto
Posted on
June 21, 2022
by
ADMIN
When renovating or moving into a new home, you want to love the place you live in, and part of that is decorating it with light fixtures in Toronto that reflect your style and personality. With numerous crystal chandeliers in Toronto to choose from, deciding on the perfect one that coordinates with your other lighting can make a fun experience stressful. When looking to buy chandeliers online, knowing where to start is the first step for success.
At Siga Home Comfort, we offer a unique variety of light fixtures for an affordable price in our online lighting store.
As you shop light fixtures online in Toronto, use these tips to learn how to coordinate crystal chandeliers throughout your home.
What to Consider Before Choosing Your Lighting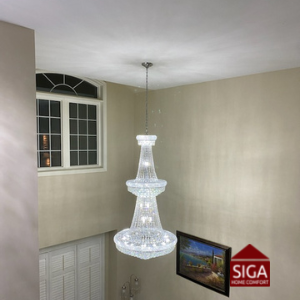 Your decor, specifically light fixtures from crystal chandeliers to modern pendant lights and vanity light fixtures is what makes a house a home. And cohesive lighting choices from one room to the next, can really string together a warm and inviting environment throughout the home, while still serving the function of the room.
With the countless designs and styles, it can be tricky to coordinate your lighting for an aesthetically pleasing look. Thankfully, Siga Home Comfort has compiled a list of what you can consider when coordinating and choosing the right light fixtures in Toronto.
Fixture Style: We each have our own personal preferences and unique style - and the same goes when choosing modern lights for your living space. Your choices are infinite when it comes to illuminating and decorating your home. Whether you want a crystal dining room chandelier or a small vanity light fixture for your bathroom, choosing the style, such as the shapes and sizes, beforehand can help with coordination.
Type of Light: The colour temperature is something else you should consider when choosing a light for your place. Some people prefer brighter and cooler coloured lighting for kitchens and bathrooms where you're more task oriented. At Siga Home Comfort, all purchases of light fixtures come with complimentary daylight LED light bulbs.
Room Functionality: Light fixtures are an essential element in any room, whether you're looking to furnish a bedroom or a home office, there is an optimal light choice for each area. While you're free to mix and match, at Siga Home Comfort you can browse an array of crystal light fixtures adorned with real K9 crystals. In every shape and style, you can be confident that as you wander from room to room your decor will be cohesive.
Tips on Coordinating Your Crystal Chandeliers and Light Fixtures
Now that you've considered the style, type of lighting, and fixture type, it's time to think about what you want your space to look and feel like. If you wish for an energized, modern area, you may want to opt for a crystal chandelier in Toronto. If you prefer a cozy, relaxed space, you may want to consider light fixtures.
Layer Your Home Lighting: Layering your lighting is the core of every space that is well-lit. Layers create dimension, illuminate function, mood setting, and revamp versatility in any place.
Create a Centerpiece: Creating a focal point with one light fixture makes it stand out. Whether you choose a crystal chandelier or small pendant lights - it draws attention to that spot.
Coordinate Across Rooms in an Open-Concept Floor Plan: It can be easy to separate light fixtures in different rooms, but it's better to coordinate the lighting in open spaces especially with modern light fixtures and open floor plans.
Why Choose Siga Home Comfort for Ligh Fixtures in Toronto
At Siga Home Comfort, we value our customers, which is why we offer free in-home estimates so that you can see your light fixture choices before purchasing them. If you're not sure about a light fixture on our website, no need to worry - request an in-home estimate, and we'll bring it to you so that you can choose the perfect chandelier or light fixture in Toronto.
Request a free in-home estimate today to brighten your home!