How to Clean Crystal Lighting Fixtures in Toronto
Posted on
February 17, 2022
by
ADMIN
Lighting fixtures in Toronto are rarely simple. That's the beauty of them. Whether you've opted for classic or modern lights in Toronto, chandeliers or pendant light fixtures, they're usually intricate and require a little extra attention to maintain their appeal. Once you invest in beautiful modern lights in Toronto, you can maintain their sparkle with careful cleaning.
To simplify the process, read on for delicate cleaning tips to safely care for your home light fixtures.
Assess the Light Fixture in Toronto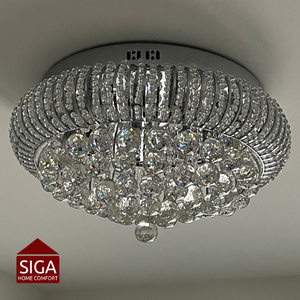 Don't just start spraying, wiping, or dusting before taking a look at your light fixture. Modern lights in Toronto are built with various materials, including iron steel, plastic, wood, and more. This means that not all lighting fixtures in Toronto will respond the same to cleaning agents or techniques. At Siga Home Comfort, you can shop for pendant lighting, vanity light fixtures, and chandeliers in Toronto, all built with strong steel bases and K9 crystals. Do not use corrosive materials as they can speed up the deterioration of your home light fixtures. Before beginning, lay a blanket on the floor to catch any falling pieces. To ensure the health of your chandelier, be delicate through every step of the cleaning process. With proper care, your chandelier will stay intact when you shop high-quality lighting fixtures in Toronto from Siga Home Comfort.
Turn off the Lighting Fixtures
When cleaning any type of light fixtures in Toronto, chandeliers or not, always turn off the light switch to stop the flow of electricity. Safety is essential when handling lights to mitigate the risk of electric shock. If you need a source of light to effectively clean your modern lights in Toronto, turn on a nearby light fixture or lamp to illuminate the area where you're working. If you have small kids around who might play with the light switches, you can tape the switch off to avoid any accidental incidents.
Dusting Chandeliers & Pendant Light Fixtures
It can be tempting to use a duster because of the extended reach, but the best results usually come from microfibre. To safely dust or wipe your chandelier, you'll need comfortable reach. Open a ladder on an even surface and ensure someone is around to hold the ladder and spot you. In between deep cleans of lighting fixtures in Toronto, you can regularly dust with a feather duster to minimize the build-up over time.
To Take Crystal Light Fixture On or Take to Take Them Off?
There are two schools of thought for cleaning crystal chandeliers in Toronto. Some suggest it's best to leave the crystals attached to the base during cleaning to avoid mixing them up or breakage. The other believes that crystals should be removed while cleaning to get the most effective results and avoid pulling on the hanging crystal chandelier. At Siga Home Comfort, we suggest keeping your chandeliers intact whenever possible. But when you want to do a deep clean, removing crystals can be more opportune.
Crystal Cleaning Solution for Modern Lights in Toronto
The perfect cleaning solution for crystal chandeliers in Toronto and other light fixtures can be made at home. It's safest to avoid the use of ammonia-based products or other harsh chemical cleaners altogether as they will lead to corrosion and streaks in your crystals. Instead, mix a simple solution that is one part isopropyl alcohol and four parts distilled water. Wiping each crystal with a microfibre cloth and the alcohol solution, your light fixtures will be crystal clear.
Shop our online lighting store today to Get the brightest shine from modern lights in Toronto.