How to Choose the Best Shape for Your Dining Room Chandeliers
Posted on
October 06, 2022
by
ADMIN
Whether you're hosting a party or gathering around the dining table for an everyday meal with your family, a dining room is a treasured location in the home and should stand out. Selecting the perfect dining room chandelier is essential steps to making your dining room feel special. Crystal chandeliers in Toronto are meant to enhance the design of your dining area by a landslide, and that starts with choosing the appropriate light fixtures from their shape to their size you select.
When you buy chandeliers online, it can be difficult to choose the best shape for your dining room table. So, Siga Home Comfort, a leading online lighting store in the Greater Toronto Area offers free in-home consultations where you and our lighting experts can look closely at the details of your favourite crystal chandeliers and decide on the best fit for your table.
Continue reading to learn how to choose the best chandelier for your dining room.
Select the Style of Your Chandelier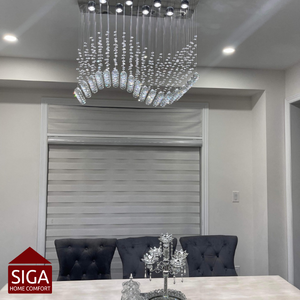 Depending on the dimensions of your dining room table and the area surrounding it, the ideal chandelier for your Toronto home will vary. Some tables suit more oversized, rectangular chandeliers, while other tables look better with smaller, round crystal chandeliers. Typically, wider or longer tables suit large rectangular or tower chandeliers, whereas smaller oval tables better suit a rounded or mini spiral chandelier. At Siga Home Comfort, we offer various chandelier shapes, including round, spiral, rectangular, and more.
The Best Location for Chandelier Installation
At Siga Home Comfort, we recommend installing your chandelier centred over the dining table instead of centred in the middle of the room. If you have other furniture in your dining room, like couches or coffee tables, your chandelier may not be in the center of the room, and that's completely fine. Crystal chandeliers when compared to other light fixtures in Toronto create a breathtaking focal point, and when they're placed in the centre of a dining table, enhancing the aesthetic appeal of the entire room.
How to Size Your Light Fixtures
A chandelier is an excellent addition to any dining room design, but selecting a suitable chandelier is crucial to complement your home. Chandeliers that are too small or too big can throw off the entire room's design. When choosing the size of your dining room chandelier, the rule of thumb is to choose a light fixture that is one-third of the length of your table, whether it's rectangular or oval. In most cases, selecting a more oversized chandelier rather than a smaller one is better, but be sure not to choose a fixture wider than the dining room table itself. When installing your chandelier, the typical guideline is to keep the bottom of the light fixture between 30-36 inches from the dining table's surface for an 8-foot ceiling height. If your ceiling is above 8 feet, raise the light fixture 3 inches higher for best results.
Shop Luxury Lighting at Siga Home Comfort
At Siga Home Comfort, we can assist you in selecting a dining room chandelier that's the right size, shape, and style for your property. In addition, we can match your dining room lighting with other light fixtures for a cohesive atmosphere. We offer free in-home estimates, so you can buy a chandelier online hassle-free without second-guessing your purchase.