How to Choose the Best Dining Room Chandeliers in Toronto
Posted on
May 11, 2022
by
ADMIN
As one of the only consistently formal settings, the dining room is one of the fancier rooms in a home. As such, it is suited to classic, elegant, or modern lights such as crystal chandeliers in Toronto. To find the best chandeliers in Toronto for your dining room, various factors come into play, from your personal style to the architecture of your home. The great thing about dining room chandeliers is that you go bold or scale back with minimalist modern lights in Toronto and still have a stunning space.
Here are some tips to help you pick out the perfect chandeliers in Toronto for your dining room.
Modern Lights or Opulence?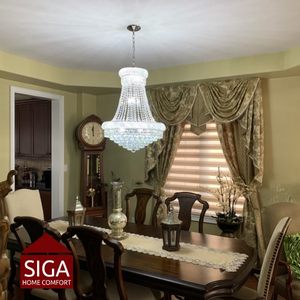 There's no wrong answer here, but answering this question about your personal taste in decor will help significantly narrow down your options with all of the modern lights in Toronto and crystal light fixtures online. If you prefer the contemporary design in your light fixtures, you might like geometric chandeliers that create clean lines and symmetry. As you browse through our online lighting store, you'll find the Emerald Chandelier and the Wavey Chandelier, both favourites that put a contemporary twist on dining room chandeliers. If you favour more classic chandelier designs, the Tower Chandelier or the Mini Tower Chandelier are both packed with shimmering crystals that create an air of luxury.
Ceiling Height & Table Location
Compared to entryway or stairway lighting, dining room chandeliers are typically sandwiched between the ceiling and the dining table. As you peruse the ceiling light options available to you, consider the height of the chandelier and how well it would fit above the table. Ideally, it's recommended that light fixtures are hung, so there is a substantial clearance if a person were to stand up. The general rule of thumb is that your crystal ceiling light should hang approximately 3 feet above your table. If you want to ensure that a chandelier in Toronto or the surrounding area fits well in your dining room, Siga Home Comfort provides free in-home consultations. We'll bring the light fixture of your choosing as well as some similar recommendations to your home where you can see how it fits and looks in your home.
Cohesive Home Decor
Chandeliers are typically the focal point of any room in which they're installed, and dining rooms are no exception. For a harmonious room design, the light fixtures, art, table, centrepiece, and any other items featured in your dining room should accent and enhance each other. Steer clear of colours that are not complimentary or have too many neutrals. If you have silver cutlery and vases, a silver base on your chandelier will work much better in your room than gold or black. At Siga Home Comfort, our entire selection of modern lights and chandeliers online are crystal and silver, designed to mesh well in many rooms. To take cohesive design a step further, you can find matching light fixtures and sets around your home for continuity from the bathroom to the kitchen and even the bedroom.
Found a dining room chandelier you absolutely adore?