How Do Zebra Blinds Work?
Posted on
November 03, 2023
by
ADMIN
Zebra blinds are one of the more popular trends homeowners are opting for when choosing to renovate their home's interior. It is a fashionable window style with a unique design that is perfect for transitioning from light to dark. Perfect to install in any room throughout the house, continue reading to find out from the lighting experts at Siga Home Comfort just what are zebra blinds, what are they made of, how they function, are zebra blinds good, and how many benefits zebra blinds can help improve any living space.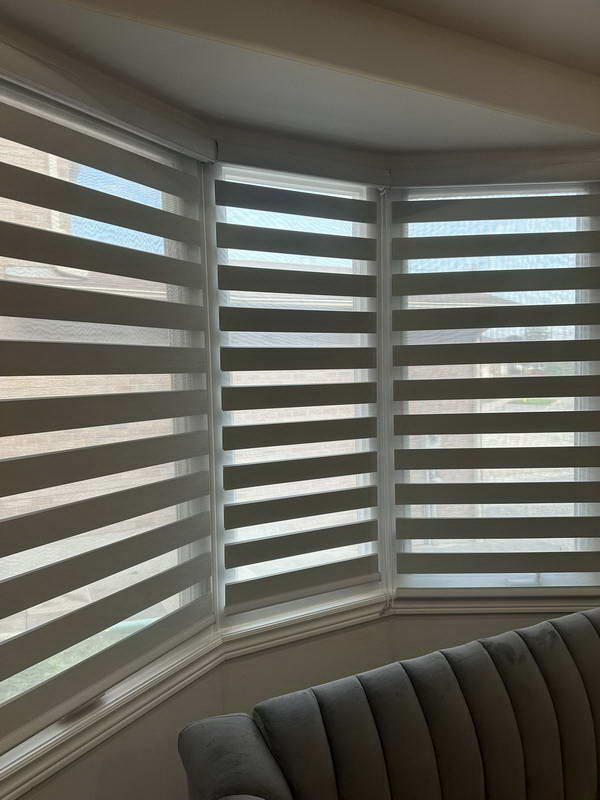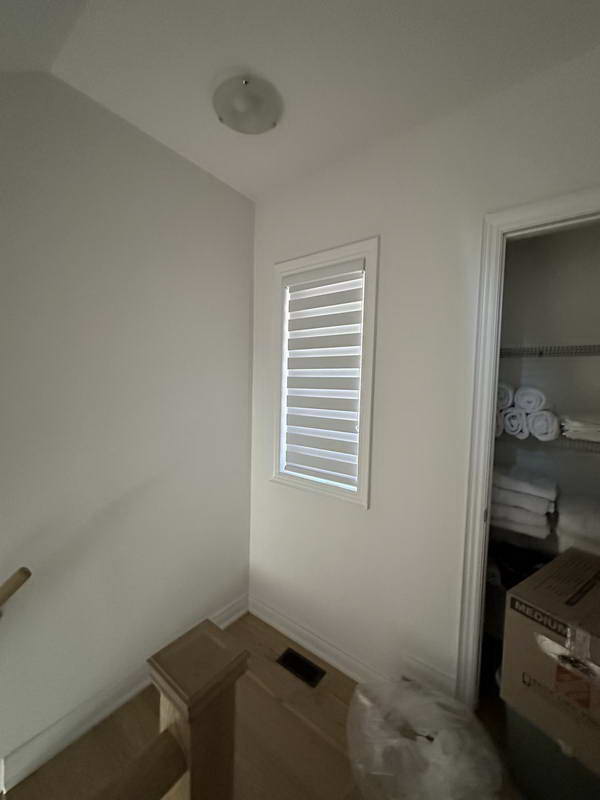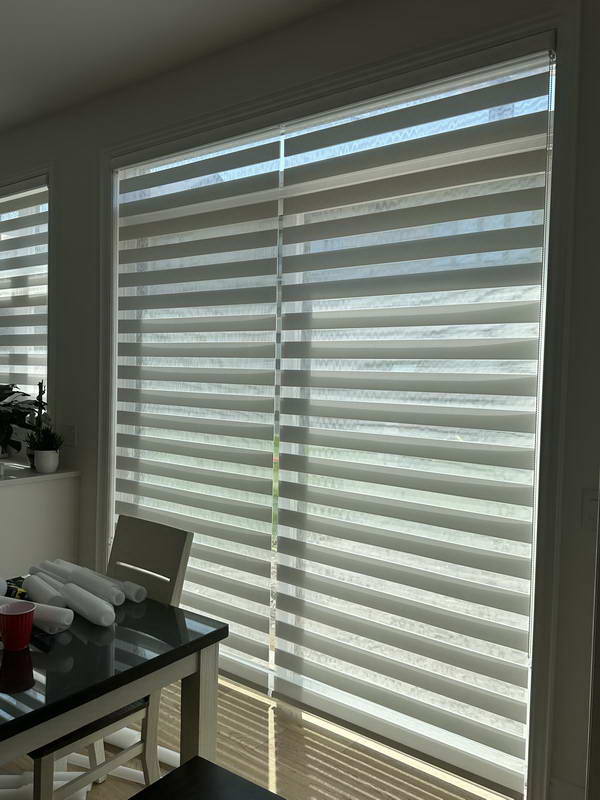 What are Zebra Blinds?
Zebra blinds consist of alternating sheer fabric and horizontal opaque stripes that allow you to easily transition from day to night. The name, "zebra" comes from their black and white striped appearance. Also referred to as dual blinds, layered or banded shades, this unique window treatment uses roller blinds, a modern alternative to horizontal blinds. Its design allows you to adjust the stripes to control the amount of light and privacy in the room.
Though they can accommodate all sizes of windows, zebra blinds are ideally suited for bigger windows because they can allow more natural sunlight in the home. The best zebra blinds are a versatile window treatment that adds a sense of style and modernity fitting for any type of room.
What are Zebra Blinds Made of?
Zebra blinds are predominantly made from the finest quality Polyethersulfone (PES) and cotton. PES is a high-quality polymer composed of very large molecules that make it a strong and durable material, excellent for long-lasting window treatment.
PES is safe for you and your family because it is non-toxic, flame retardant, and free of additives. The alternating stripes that makeup zebra blinds can be customized with texture, fabric, and colour options to suit your visual choice of preference.
Zebra Blinds - How do they work?
Zebra blinds are unlike traditional roller shades in that they are made of fabric positioned in one continuous loop that rolls through the bottom bar. The alternating horizontal stripes overlap by rolling when adjusting the shades via motor or cord. When you want to allow light in, adjust your shades so that the opaque stripes overlap the sheer stripes and to maximize light, roll the blinds to the upmost point of your window. On the other hand, to limit the amount of light entering, you want to spread out the opaque stripes by making the corresponding adjustments.
The alternating stripes of Zebra blinds provide you with the ability to control light and privacy allowing you to transition your space from light to dark almost instantaneously. Now that we know more about zebra blinds and how they work, let's dive into the four main benefits of installing zebra blinds in your home.
How Zebra Blinds Provide Light and Privacy Control?
Zebra blinds are a popular and convenient option for homeowners because they allow you to filter light and control privacy in one roller shade. The best zebra blinds provide both light and privacy control because of the solid and sheer shades working together. In addition to providing light filtering, the sheer stripes provide UV protection and glare reduction. To give your space the brightness it needs, overlap the opaque stripes so your blinds will allow for light to filter through.
You can also see outside via the light-filtering stripes. Opaque stripes are perfect for the evening while watching a movie, or any other time you want more privacy or to darken your living room with zebra blinds. By spacing out the opaque stripes, you will not be able to see through your blinds, thus making your space darker.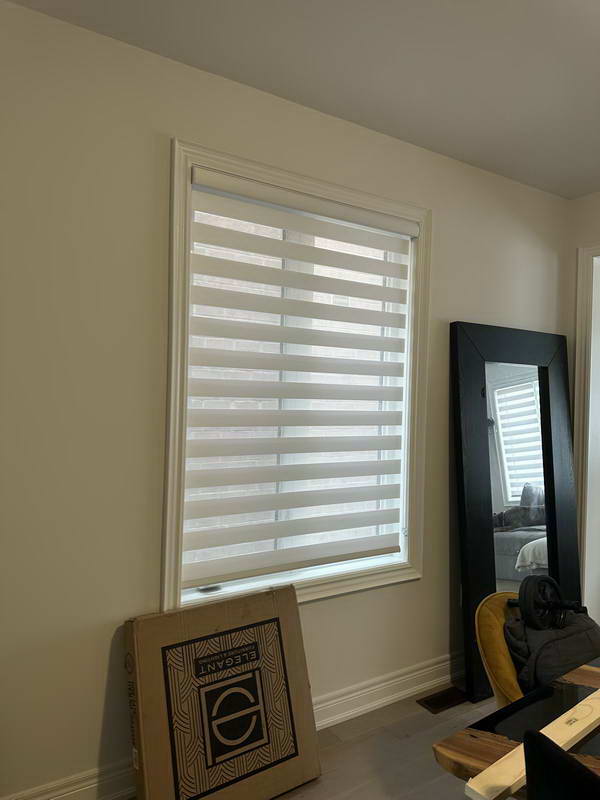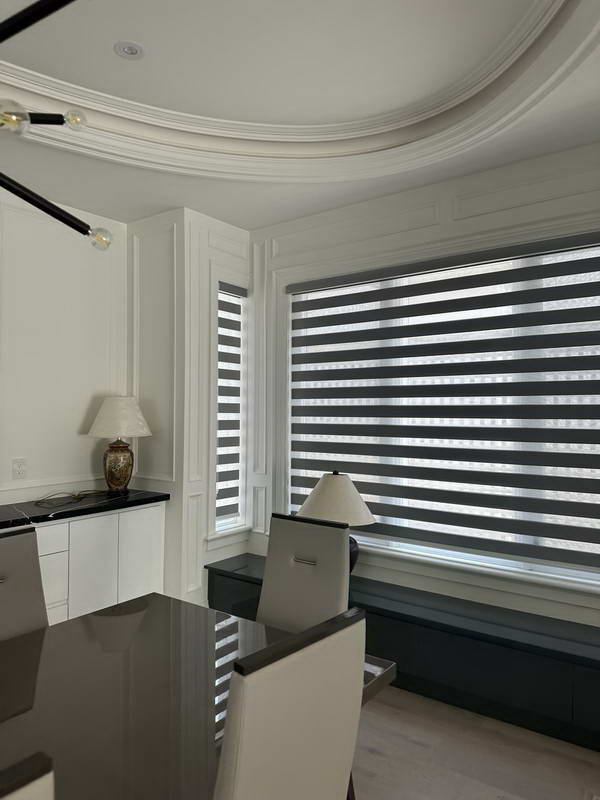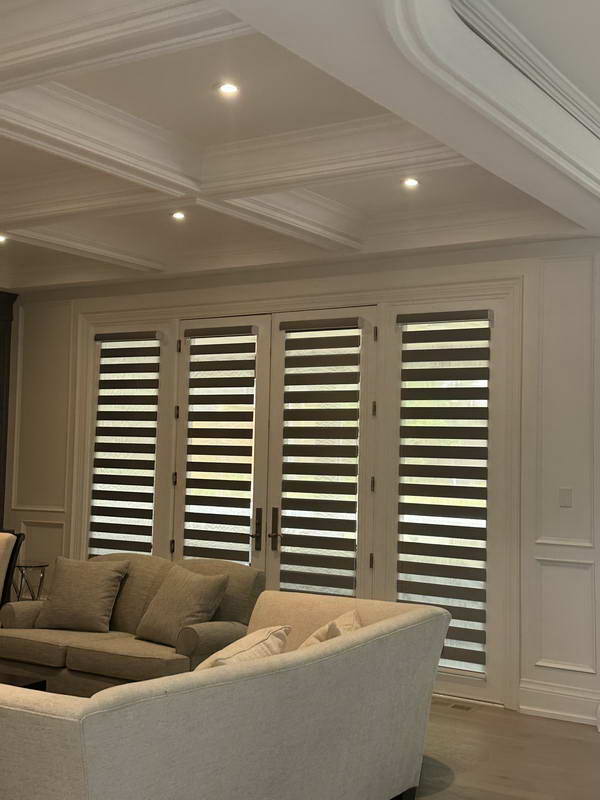 Different Operating Options Available
Zebra blinds are an all-around window treatment that can serve a different function depending on your preference for how light or dark you want the room to be. There are different operating options available by alternating the sheer and opaque horizontal stripes. In addition, zebra blinds are customizable and are offered in a variety of fabrics and colours to shop.
For example, if you are interested in blackout shades but do not want to be so constricted to always being blackout shades, you can select zebra blinds and opt for a blackout opaque colour choice to get the best of both worlds. Zebra blinds can just as easily be blackout and make the room darker and private, as they can allow light to pass through by overlapping the opaque stripes and adjusting the shades.
Energy Efficiency Benefits
Another advantage to installing living room zebra blinds into your home is they are energy efficient. Zebra blinds help prevent wind from entering through your windows and offset the desired temperature in your home.
By maintaining a consistent room temperature, your HVAC system will not need to course correct the rise and falls in temperatures thus, saving you from what could have been a hefty increase in your monthly electrical bill. In addition, zebra blinds can offer greater insulation over other types of windows because of the double layering of fabric.
Cleaning and Maintenance
Zebra blinds are easy to clean and maintain because of the nature of the PES material fabric. To help keep your zebra blinds looking brand new, the cleaning regimen is as simple as dusting the blinds lightly once a week. If you notice your blinds have a stain, use a damp cloth to gently dab at it.
Avoid the stain from spreading by being careful not to rub when wiping. Proper use and maintenance will help extend the lifespan of your blinds for years beyond their installation date. It's imperative that you use lukewarm or cold water when cleaning your zebra blinds because hot water can seriously damage the fabric.
Ready to Install Zebra Blinds in Your Toronto Home?
Now that you know how zebra blinds work and how versatile they can be, it's time to plan where you need these window treatments. Contact Siga Home Comfort to install your next set of window treatments. We offer a variety of zebra blinds from motorized zebra blinds to sheer zebra blinds. Check out more about our zebra blinds here.