How Chandeliers in Toronto Create a Romantic Ambience
Posted on
February 04, 2022
by
ADMIN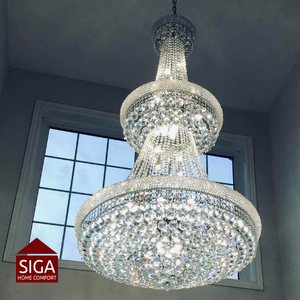 With Valentine's Day fast approaching, it's a good time to think about how to throw a romantic dinner that will wow the special someone in your life. A crucial element to creating a soft and romantic atmosphere is the ambience, which your light fixtures play a key role in establishing. Crystal chandeliers in Toronto are often chosen because of their ability to lend to a room's lighting. While there are many modern light fixtures you can choose from for your Valentine's day dinner, chandeliers in Toronto are a classic.
Read on to learn more about chandeliers in Toronto for Valentine's Day.
How Do Chandeliers in Toronto Affect Lighting?
Most modern lights in Toronto are sleek and minimalistic, which works well in contemporary room designs but lacks the luxury of chandeliers in Toronto. Crystal chandeliers from Siga Home Comfort come adorned with hundreds of K9 crystals and daylight LED light bulbs. Instead of channelling light into one specific spot for task lighting, like what you would find in a kitchen or home office, crystal chandeliers illuminate the room by distributing natural light and LED lighting softly throughout the space. The crystals work like prisms, subtly breaking up white light and redirecting it for a gentle and inviting ambience that is romantic but not dark.
Decorating Crystal Chandeliers in Toronto
If you already have beautiful dining room lighting, you can take it up a notch by decorating your chandelier. While chandeliers are often a statement piece on their own, on Valentine's day and other special occasions, there is always an opportunity to take modern lights in Toronto up a notch.
Candles: Even with all the light from your ceiling, light fixtures, tealight, and taper candles take the romance up a level by adding a warm glow that reflects the crystals in your chandelier.
Roses: It's hard to imagine Valentine's Day without flowers. A bouquet of long stem roses is a classic way to tell someone you adore them. You can get creative with your flowers and hang them off the branches of your chandeliers for a beautiful and unforgettable dinner scene. Roses dangling from your chandelier will catch the light sparkling as they slowly drift.
Paper Cut-Outs: Is the special someone, you're spending Valentine's day with more on the crafty side. Try replacing the roses of your chandelier with paper heart cutouts and personalized messages that share all the things you love about them most.
Gifting Modern Lights in Toronto
Has your partner wanted new modern lights in Toronto for some time now? Then a crystal chandelier or new light fixture is the perfect gift. At Siga Home Comfort, you can shop chandeliers in Toronto and other light fixtures online, then have them installed in time for Valentine's Day. Modern light fixtures in Toronto are the jewellery of home decor and are a great way to show that you listen and care.
When you shop affordable light fixtures online at Siga Home Comfort, you can get free estimates and delivery in the GTA in time for Valentine's Day.