Guide to Mixing & Matching Dining Room Chandeliers
Posted on
February 28, 2023
by
ADMIN
Mixing and matching dining room chandeliers in Toronto can add a unique and eclectic touch to your dining space. It allows you to break away from traditional design conventions and create a personalized look that reflects your style and personality. Installing a variety of crystal chandeliers and light fixtures within your home establishes a visually dynamic space that adds depth and interest to the room. By selecting different shapes, sizes, and finishes, you can create a custom lighting design that suits your needs and complements your existing decor. Whether you prefer a modern or traditional aesthetic, mixing and matching chandeliers can help you achieve a unique and memorable dining experience.
At Siga Home Comfort, you can find beautiful and modern crystafl chandeliers in Toronto. If you're looking to buy a chandelier online or in our Toronto showroom, contact our lighting experts for an appointment.
Read on for insight on mixing and matching your dining room chandeliers.
Diversify the Shapes of Your Chandeliers in Toronto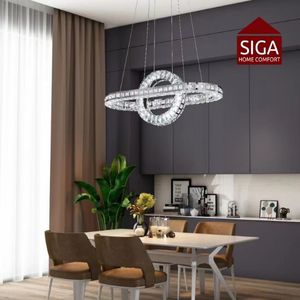 When it comes to choosing the right dining room chandelier, there are many factors to consider, including the shape of the lighting fixture. Different shapes create a variety of moods and aesthetics, and mixing and matching shapes can add visual interest to your space.
Consider a round or oval chandelier with crystal accents for a classic and elegant look. These shapes create a sense of symmetry and balance, while the crystals add a touch of glamour and sparkle.
Try a linear or rectangular chandelier if you prefer a more contemporary vibe. These shapes create clean, modern lines and are perfect for longer dining tables. Look for light fixtures in Toronto with unique features, such as asymmetrical designs or mixed materials, to add an extra element of interest.
Various Light Fixture Colours & Finishes
For a whimsical or eclectic touch, consider mixing and matching different shapes of chandeliers. Combining round, oval, rectangular, and even geometric shapes can create a playful and unique look. Just be sure to keep the overall scale and style cohesive to avoid a cluttered or chaotic appearance.
The colour and finish of your chandelier can greatly impact the overall look and feel of your space.
If you want to make a bold statement, consider choosing a chandelier in a vibrant colour or a unique finish, such as brushed brass or matte black. These finishes can add a modern touch to a traditional space or help bring a more traditional room into the 21st century.
On the other hand, if you're looking for a more classic or timeless look, a traditional crystal chandelier in a classic finish, such as polished brass or chrome, may be the way to go. These finishes will help the chandelier blend seamlessly into the space while still providing the luxurious feel that chandeliers are known for.
Ultimately, the colour and finish of your chandelier should complement the existing decor of your dining room and add to the overall ambiance of the space. Don't be afraid to mix and match different finishes or colours to create a unique and personalized look that reflects your style and taste.
Explore & Buy Chandeliers Online or In-Store
Fall in love with your space by installing unique and stunning crystal chandeliers in Toronto for every area of your home. Book a free in-home consultation or visit our showroom in Toronto to consult with a lighting expert at Siga Home Comfort.