Guide to Gifting Crystal Chandeliers in Toronto for Holidays
Posted on
November 19, 2021
by
ADMIN
'Tis the season to give gifts. And for those looking for the perfect housewarming present for a close friend, something beautiful to give a loved one, or something exciting for yourself this holiday season, modern lights in Toronto might be the answer. While light fixtures are not the traditional holiday gift, when they're as beautiful as crystal chandeliers in Toronto from Siga Home Comfort, why not?
Here's what you need to know about gifting light fixtures in Toronto this year.
Personalization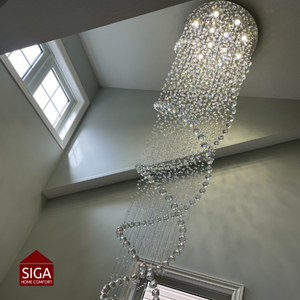 The best gifts given or received are the ones laced with a bit of character. Personalization doesn't necessarily equate to an engraved, but the reflection of someone's character or unique style represented in the gift. Because light fixtures in Toronto are so diverse, coming in a wide range of shapes, sizes, colours, and designs, you can find modern lights in Toronto that are personalized subtly and effectively.
At our online lighting store, Siga Home Comfort is stocked with crystal light fixtures that range from sleek and simple to extravagant and opulent.
Installation
Before selecting a light fixture online, it's best to consider the layout and design of the home in which the light fixtures will be installed. Most modern light fixtures in Toronto can be used in multiple rooms or spaces but are best suited to one. For example, towering crystal chandeliers in Toronto are a great choice for entryways, foyers, and stairways, while smaller chandeliers in Toronto best fit bedrooms and dining rooms. While these general guidelines exist, don't be afraid to get creative. The most unique installations often make the most exciting spaces. At Siga Home Comfort, you can choose custom installations for light fixtures purchased from our online lighting store.
Affordability
There are typically more dinners, outings, and get-togethers during December paired with a never-ending shopping list, making it a more expensive month than most others. So, many people considering purchasing a luxurious crystal chandelier or other modern light fixtures might be hesitant. But, when you choose Siga Home Comfort, all of our stunning crystal light fixtures are priced at affordable rates, making them accessible for the holiday shopper. In addition to low prices, there is no tax charged on any fixtures purchased from our online lighting store, so the price you see is the one you get.
Shop Online
Visiting lighting stores and shopping malls during the winter can quickly because frustrating from crowding to low stock and restrictive business hours. If you're looking to shop for modern light in Toronto, online stores can give you a break from the hectic world of brick and mortar. Order light fixtures on the web from our online light store, and comfortably browse our selections and read reviews. We offer secure purchases and a variety of modern lights in stock that you can browse comfortably at your leisure.
Delivery
If you're going to shop online for your holiday gifts this season, look for an online lighting store that offers convenient delivery options. You don't want to find yourself driving around in the snow to pick up light fixtures in Toronto. When you order online, Siga Home Comfort provides free delivery in the GTA, so you can await the arrival of your beautiful crystal lighting fixture without ever facing the winter weather for maximum convenience.
Start shopping for crystal chandeliers, pendant light fixtures, vanity lights in Toronto online!