Feng Shui Tips for Crystal Lights in Toronto
Posted on
March 22, 2022
by
ADMIN
Technically, Feng Shui is an ancient design concept used to create a balance between the indoor environment and the natural world. Whether you're inclined to Taoist philosophy, Feng Shui has skyrocketed in popularity because of its ability to create open and inviting spaces. When you bring crystal and modern light fixtures home, you can use the principles of Feng Shui to guide your installation choices.
At Siga Home Comfort, we offer free in-home estimates, where we can bring you a selection of modern light fixtures and crystal chandeliers that you choaose, and we can suggest for your home. Our modern lighting experts will help you select the best crystal light fixtures for every room in your home.
Here are some Feng Shui guidelines you can use to shop for modern crystal light fixtures online!
Entryway Lighting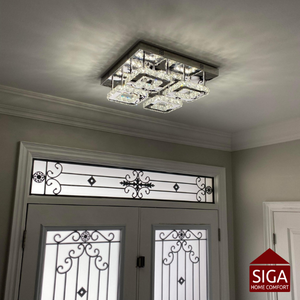 Brightly illuminated entryways and doors are said to invite good energy into your home. A well-lit entryway is practical too. With crystal chandeliers and crystal light fixtures in Toronto at your door, you will be able to immediately brighten your home upon entering and welcome visitors with stunning light fixtures. At Siga Home Comfort, all of our modern light fixtures and crystal chandeliers in Toronto come with complimentary LED daylight bulbs.
Light Fixture Height
According to Feng Shui principles, the height or length of light fixtures in Toronto can affect the flow of energy in your home. When you choose pendant lighting and crystal chandeliers in Toronto, ensure they're well suited to the space or room in which they're being installed. There should always be enough clearance beneath light fixtures in Toronto for people to walk comfortably. The higher the ceiling, the further your light fixtures can be suspended.
Balance Your Decor
Feng Shui involves balancing 5 elements - earth, water, air, metal, and fire. Highly illuminating light fixtures bring in the fire element, which is lively and high energy. While it's important to have fire energy, it's smart to balance it with calm. Modern light fixtures are often paired with house plants, which are getting more popular every year. Small plants and succulents can add vibrant pops of green.
Eliminate Shadows
Sometimes, light fixtures in Toronto that are not well suited to a room or not properly installed can cause shadows. Shadows and chandeliers are counterproductive, taking away lighting instead of enabling it. Wall sconces and light fixtures that are not hung on the ceiling instead of on the walls are likely to create shadows from neighbouring furniture. Crystal chandeliers and pendant lighting suspended high above the ceiling are less likely to be interrupted by other fixtures in the room.
Dispersed Lighting
In living rooms, bedrooms, and dining rooms, where the functionality of the space is not so task-oriented, compared to kitchen lighting, bathroom vanities, and home offices, you can benefit from light fixtures that offer softly dispersed light. Crystal chandeliers in Toronto act as prisms and reflect the light softly throughout the space for good illumination without being too harsh.
Find your perfect light fixtures in Toronto online at Siga Home Comfort!