Explore Our Most Popular Crystal Chandeliers for Dining Rooms
Posted on
November 29, 2022
by
Admin
For many people, the dining room is a sacred place in the home. It's where guests and loved ones gather, break bread, and get closer. As a result, interior designers or anyone redecorating their home places more importance on putting together the ideal dining area, starting with the perfect dining room light fixtures. At Siga Home Comfort, one of Canada's leading online lighting stores, we offer a selection of beautiful crystal chandeliers adorned with K9 crystals that fit all styles and sizes of dining rooms.
To choose the best dining room light fixtures for your home, read on.
The Tower Chandelier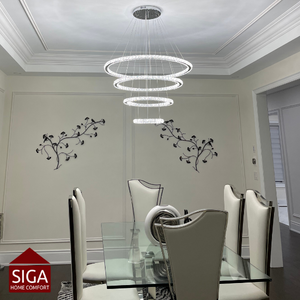 One of our most stunning crystal chandeliers is the Tower chandelier, named for its grandeur appearance, capturing the attention of anyone who encounters it. The Tower chandelier is undeniably dazzling, but with a 7 ft chain and 35 LED light bulbs, it may be too immense for a dining room, depending on the size of the space. The Tower chandelier is excellent for stairways with high ceilings and can be paired cohesively with the Mini Tower Chandelier in the dining room. If you're looking to buy a chandelier online, you can make the process easier with a free in-home estimate from the Siga Home Comfort team. Our lighting experts will measure your space and help you find a crystal chandelier that fits well and enhances your decor.
The Emerald Chandelier
Where the Tower Chandelier has a classic appeal, the crystal Emerald chandelier is a more modern light fixture. The straight lines, simple design, and glistening crystals still capture the eye but don't demand attention, making the Emerald Chandelier a great dining room light fixture choice for contemporary spaces. The elongated rectangular chandelier style fits well over long dining room tables that seat more than four people. Hanging above the table, the crystal chandelier distributes light evenly throughout the space so everyone has a well-lit seat. When you ship at Siga Home Comfort, your crystal chandeliers come with complimentary LED light bulbs.
The Wavey Chandelier
The Wavey Chandelier is among the most popular dining room light fixtures at Siga Home Comfort. The unexpected design is simple yet fun, adding a special touch to any room in which it's installed. The crystal chandelier dances above any dining room table, reflecting light delicately throughout the space, contributing to an appropriately serious ambience in the evening and a brighter, lighter feel during the day. Whether your dining room is simple or eccentric, the Wavey Chandelier adds an element of flair that elevates the experience.
Other Dining Room Light Fixtures
While crystal chandeliers are the go-to option for classic dining room designs, other light fixtures can adorn your dining room, specifically pendant lighting. These single-bulb light fixtures are suspended from the ceiling to add geometric elements to your space and more dynamic installation opportunities.
Shop Light Fixtures Online at Siga Home Comfort
With dozens of stunning dining room light fixtures to choose from online, you can find a unique and breathtaking addition to your home from Siga Home Comfort. To ensure you have found the best crystal chandelier, schedule a free in-home consultation in the GTA, and our lighting specialists will bring a selection of light fixtures directly to you, so you can be confident you've picked the right one before you buy,