Choose the Best Light Fixtures for Your Makeup Vanity
Posted on
January 11, 2023
by
ADMIN
The vanity or makeup counter is a sacred space for many people, so choosing the best bathroom vanity lights is of the utmost importance. Getting ready every morning or applying your makeup for a special occasion is more than just a task that must be completed. It is a ritual. The quality of your setup and light fixtures in Toronto can significantly impact the result of your makeup or skin care applications and how you feel. Choosing beautiful bathroom vanity lights for your makeup counter can help you make the most of your morning routine.
At Siga Home Comfort, we supply a selection of crystal light fixtures for bathroom vanities designed to illuminate in style. For help choosing the best bathroom vanity lighting, schedule a free in-home consultation with the Siga Home Comfort lighting specialists. From vanity light fixtures to crystal chandeliers in Toronto, we'll provide you with tailored suggestions that you will love.
Here is your guide to choosing the best bathroom vanity lights for your makeup counter.
Shadow-Free Light Fixtures Toronto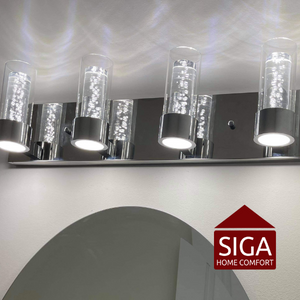 When bathroom vanity light fixtures are not correctly positioned or installed, they cast shadows on the area below them. Shadows can become even worse when the design of light fixtures interrupts the light source. Crystal vanity lights at Siga Home Comfort evenly distribute light through high-quality and aesthetically pleasing crystal light fixtures in Toronto for impactful and uninterrupted illumination.
Daylight LED Light Fixtures in Toronto
Lighting is incredibly important when it comes to makeup application. Bright illumination allows you or the makeup lover in your life to see colours clearly and identify blemishes that require better coverage. You can apply, blend, and remove makeup with maximum visibility and confidence by installing light fixtures in Toronto with LED daylight bulbs. Bathroom vanity lights and crystal chandeliers from Siga Home Comfort come equipped with daylight LED light bulbs.
Stylish Light Fixture Design
If you're serious about skincare and makeup, chances are you will spend a lot of time at your makeup counter, so you should love how it looks. Not only should the bathroom vanity lights you choose effectively illuminate your face and the surrounding areas, but they should also feel like they belong in your bathroom and home. At Siga Home Comfort, we stock 4 beautiful bathroom vanity lights, each with its own uniquely striking design. Choose from the Ice Glaze Vanity Fixture, Jewels Crystal Light, Ambience Bathroom Vanity Light, or the Diamond Vanity Light Fixture. To further upgrade your lighting, match your bathroom vanity lighting to the rest of your home light fixtures in Toronto. You can add mini chandeliers to your bathroom ceiling or bedroom for a cohesive experience as you move from room to room.
Installing Bathroom Vanity Lights
Once you've found the best light fixtures in Toronto for your makeup counter, you'll need to have them installed. The Siga Home Comfort team will recommend a reliable lighting installer to ensure your bathroom vanity lights are positioned perfectly for optimal use.
Find light fixtures online for every room in your home with Siga Home Comfort, or book your in-home estimate.