Choose Chandelier Lights for Your Bathroom
Posted on
January 27, 2022
by
ADMIN
Traditionally chandeliers in Toronto have been used as statement pieces for communal rooms adorning entryways and stairways to greet guests. Bathrooms, on the other hand, geared towards vanity light fixtures. However, if you're looking for a luxurious bathroom setting, expanding your search for light fixtures online to chandeliers in Toronto can make all the difference.
At Siga Home Comfort, we stock pendant light fixtures, vanity light fixtures, and chandeliers in Toronto. When you shop our online light store, you can find modern light fixtures to furnish your perfect primary bathroom.
Room Size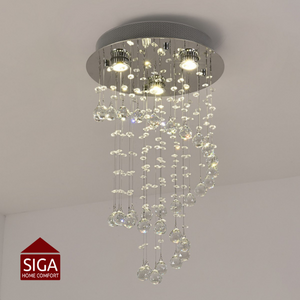 In smaller bathrooms, like powder rooms, chandeliers in Toronto would take up too much space, crowding the air space. Small sized bathrooms are better geared to vanity light fixtures, which sit neatly above the mirror, installed into the wall to save space. Bathroom chandeliers in Toronto should be installed in areas with enough space to walk around and underneath it comfortably. As a result, chandeliers are best suited to primary bathrooms.
Layout
To be functional, bathrooms are built with fixtures, while in new homes their position can often be customized, in most cases decorators will have to work around sinks, tubs, showers, and cabinetry. Chandeliers in Toronto don't just take up space physically, they also take up space visually. To be incorporated well into a bathroom, a bathroom chandelier is usually installed in one of two locations: over the bathtub or in the centre of the room.
Bathtub: Crystal chandeliers over a bathtub adds depth and luxury to the room by creating an attractive focal point without monopolizing the available space.
Centre: Installed in the centre of the bathroom ceiling, crystal chandeliers in Toronto are just as functional as they are beautiful. This is a great way to tie in other design elements around the room to one opulent centrepiece.
Style
Once you decide that you want to install a chandelier in your bathroom, you have to decide which chandelier is right for your home. There are a few elements to focus on as you shop light fixtures online. Consider whether you want classic crystal chandeliers or trendy light fixtures. Then, assess what size fits best in your space. Typically the right chandeliers in Toronto for bathrooms are smaller in size ranging from 1ft to 3ft, depending on your ceiling height. The rule of thumb is to ensure 7 ft of clearance for walking beneath your ceiling light fixture. Over bathtubs you do have the opportunity to hang your chandelier lower since you will not be standing in your tub.
Matching
Primary bathrooms are still a task oriented where grooming, skin care, and make application takes place. This means that the mirror requires proper illumination and can do with two light fixtures. In addition to Toronto chandeliers, a vanity light fixture should also be installed over bathroom sinks. When you need two or more light fixtures, you can browse our online store for matching light fixtures online. This will enable a cohesive and neat finish to your bathroom design. To take it a step further you can match grander crystal chandeliers elsewhere in your home's stairways and entryways to the bathroom and bedroom lighting too.
Contact the lighting experts directly to learn about all of our light fixtures online and find the perfect Toronto chandeliers or visit the Siga Home Comfort lighting store.