Benefits of In Home Consultations from Lighting Stores in Toronto
Posted on
April 13, 2022
by
ADMIN
Whether you're shopping online for light fixtures in Toronto or visiting brick and mortar lighting stores in Toronto, it can be challenging to select the right chandelier, crystal ceiling light, or vanity light fixture. To find the best light fixtures in Toronto for your home, you have to consider every aspect of your home and how it relates to that light fixture which can be difficult to do online or at in-person lighting stores in Toronto.
At Siga Home Comfort, we help you decorate your space efficiently and effectively with convenient in-home estimates that are completely free of charge.
Here are the benefits of in-home estimates when shopping for chandeliers and light fixtures in Toronto.
Conveniently Comes to You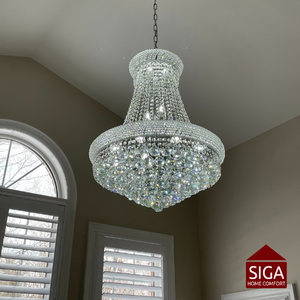 When you browse crystal chandeliers, dining room chandeliers, pendant light fixtures, and vanity fixtures online, you'll have an idea of a couple light fixtures that you like rather quickly. Upon narrowing down your top picks, you can request an in-home consultation, where an expert will bring the products directly to your home. With an in-home light fixture try-on, you don't have to leave your house, waste gas or time driving around from one lighting store in Toronto to the next. Instead, you can evaluate the chandeliers from our online lighting store in Toronto thoroughly from the comfort of your own home.
Match Your Home Decor
If you're on the fence about a light fixture you've seen online or if you're not sure where it's best suited to, you can use an in-home estimate to finalize your decision. When our technicians bring the light fixtures of your choice to your home, you can see how it contrasts, and accents paint colours, decor, and the layout of your home. Seeing each lighting option in person, you can confidently decide whether a chandelier is a dining room chandelier or a stairway chandelier.
Effortless Recommendation
Do you need more than one chandelier in Toronto, or are you not confident about your choice? Our lighting experts are happy to help you run through the best options for your space. With years of experience working with light fixtures in Toronto, the team at Siga Home Comfort uses our design expertise to quickly suggest light fixtures in different sizes and shapes for the best results. If you're looking to install light fixtures in multiple rooms, we can bring matching light fixtures or similar sets so you can create a cohesive home design quickly and effortlessly.
Feel Confident About Your Decision
Every element of your home design and layout should represent your style and maximize both the functionality and beauty of your space. In-home estimates help ease concerns regarding online lighting stores in Toronto by allowing you to see the light fixtures in your home before you commit.
Shopping Siga Home Comfort
Our online lighting store is equipped with a range of modern and crystal home light options, from the elegant stairway and dining room chandeliers and kitchen pendant lights to ceiling lights and vanity light fixtures. When you shop our online store, you get free daylight LED light bulbs included in all your purchases and a lifetime warranty.
Want to Try a Light Fixture Before You Buy?