Benefits of Ambient Lighting in Toronto
Posted on
November 16, 2022
by
ADMIN
Depending on the room in which you're searching for light fixtures in Toronto, the type of lighting best suited for that space will differ. The four lighting categories typically considered when furnishing a new home or redecorating are ambient, task, accent, and decorative. While more than one type of lighting style may work in a space, when browsing crystal chandeliers online or in-store, shoppers are seeking ambient lighting.
As you visit lighting stores in Toronto to buy a chandelier online, you'll first have to decide if ambient lighting is right for you and your space. Read on to learn more about ambient light fixtures in Toronto.
What is Ambient Lighting?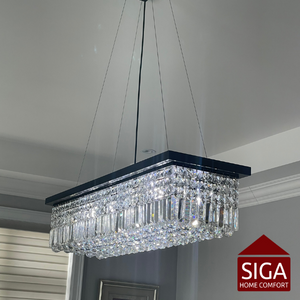 Sometimes referred to as general lighting, ambient light fixtures are typically the primary light source and illuminate the entire room. The goal of ambient lighting is to enable consistent lighting throughout the space in which it is installed. Sometimes, crystal chandeliers are used as the primary light source and then layered in specific pockets of a room for enhanced accent or task lighting. Like all light fixtures in Toronto and types of lighting, ambient lighting sources like crystal chandeliers offer significant advantages to your home or commercial space in the right area.
Improve Ambience
The best light fixtures in Toronto contribute to the mood and feeling of a room. Ambient lighting effectively creates a warm and welcoming atmosphere which is why it is commonly found in communal spaces where people are likely to gather, such as dining rooms, living rooms, and even basements. Good central lighting provided by crystal chandeliers allows every person and object to be equally visible, facilitating connection and communication. In contrast, task lighting would create more of a spotlight effect that would leave some people in the shadows.
Prevent Eye-Stain
Because ambient lighting is all about good, even illumination, it can actually help reduce eye strain, promoting the better vision and eye health. At Siga Home Comfort, all of our crystal chandeliers come equipped with 6000K daylight LED bulbs, free with purchase. The high-quality and bright light bulbs make fine details more easily visible for more comfortable reading and watching TV. For those who suffer from migraines or already struggle with poor vision, ambient light fixtures in Toronto are a simple solution that makes being at home easier.
Enhance Design Details
If you have spent a lot of time, energy, and money on your home decor, you wouldn't want it to disappear into the shadows, and with ambient crystal chandeliers, it won't. Delicately shifting K9 crystals distribute the light produced by multiple LED bulbs throughout any given room, highlighting the beautiful features that give your space its character and charm, like fireplaces, furniture, and wall colours.
Where to Install Ambient Light Fixtures?
While ambient crystal chandeliers are best suited to dining and living rooms, almost any space can benefit from a central light source. Chandeliers are increasingly being used with more liberty and creativity, adorning bathrooms, closets, bedrooms, and stairways.
Make shopping for the best light fixtures online for your home easier with support from the expert team at Siga Home Comfort.