Adorn Your Primary Bedroom with Crystal Chandeliers in Toronto
Posted on
July 13, 2022
by
ADMIN
Whether you live alone or with a large family, the primary bedroom is your own personal escape. Unlike communal spaces such as the kitchen or living room, your bedroom is yours and should feel like it too. Choosing your favourite crystal chandeliers in Toronto is a great way to decorate your bedroom with style and personality. At Siga Home Comfort, a chandelier store in Toronto, you can buy chandeliers online for your main bedroom. With our free in-home estimates, you'll get an expert consultation to help you make design decisions specific to your space.
As you shop for bedroom chandeliers in Toronto, here are some modern lighting tips.
Ceiling Height & Chandelier Length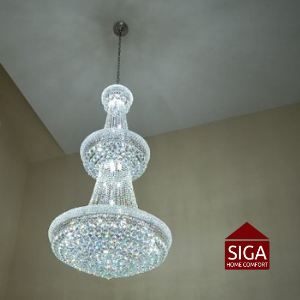 The chandelier you choose for your bedroom should be directly related to your ceiling height. The perfect chandelier leaves enough clearance for you and the tallest family member to walk underneath without hitting their head. If you want a dangling chandelier in Toronto, install your light fixture over a piece of furniture like a table, bed, or vanity. In this case, you can have less space between the chandeliers and the floor. Our selection of crystal chandeliers online comes in a wide variety of styles, shapes, and sizes from which you can choose.
Ensuite Bathroom Light Fixtures
If your home's primary bedroom has an adjoining primary bathroom, it's a good idea to keep the design theme fluid throughout both rooms. Most modern light fixtures installed in bathrooms are installed around the mirror. At Siga Home Comfort, you can shop vanity light fixtures as well as crystal chandeliers in Toronto for your bathroom. If you're choosing a K9 crystal chandelier for one room, consider installing a crystal light fixture in the next for a seamless design.
Shadow-Free Bedroom Lighting
If you're trying to get ready for the day, read a book, or just watch some TV, the shadows caused by your light fixtures are incredibly frustrating. When you install light fixtures around your bedroom, stay away from wall sconces in favour of crystal ceiling light fixtures. Chandeliers that hang from the ceiling evenly distribute light throughout the room, filling the dark corners of the bedroom. When you buy chandeliers online in Toronto, translucent K9 crystals adorn each modern light fixture to help brighten the room, unlike opaque adornments that block the light source and contribute to shadows.
LED Lighting
The type of light and the colour of light used in your bedroom chandelier can improve the functionality and comfort of your bedroom. White LED lighting is excellent for tasks and reducing eye strain, so if you're watching TV, crafting, or working on your computer, you can trust that LED lighting will help you feel less tired and more focused over time. Purchases of crystal chandeliers in Toronto at Siga Home Comfort all come with complimentary 6000K LED daylight light bulbs.
Shopping Bedroom Chandeliers at Siga Home Comfort
Siga Home Comfort is one of Canada's leading retailers of light fixtures in Toronto. Browse our selection to decorate any and every room in your home. When you shop our online lighting store, we'll pay the taxes and provide you with a reliable installation recommendation so you can start using your new light fixtures fast.