4 Surprising Uses for Chandeliers in Toronto
Posted on
March 08, 2022
by
ADMIN
Many modern lights in Toronto have a specific use or room with which they're associated, so designers and homeowners use that as a guideline for which light fixtures to purchase in Toronto. Crystal chandeliers in Toronto are no exception. Depending on their level of luxe and glamour, chandeliers are light fixtures most often installed in entryways and stairways to welcome guests and give visitors a lasting impression. Despite the more common uses of chandeliers, there has been a surge of people getting more creative with modern lights in Toronto, using them in less traditional rooms.
There's no reason to stick to tradition with your light fixtures. Here are 4 innovative uses for crystal chandeliers in Toronto.
Crystal Chandeliers for Bathrooms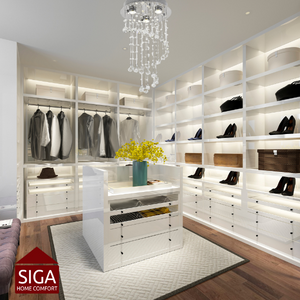 LED vanity light fixtures in Toronto are the most commonly used lighting fixtures in bathrooms and washrooms. The purpose of vanity lights is to illuminate mirrors and prevent shadows from overhead ceiling lights or pendant light fixtures. Crystal chandeliers in Toronto can be installed in the open ceiling space of more spacious bathrooms. Small chandeliers are lavish for hanging over tubs and in the middle of the room to increase feelings of luxury while taking a bath, getting ready for the day, or winding down for the evening.
Closet Light Fixtures
For many people, the closet is a sacred and integral room. This is where you choose what you're going to wear and how you will accessorize. The decisions you make in your closet can impact how you feel for the rest of the day. LED light fixtures are a great way to ensure ample illumination as you sort through our apparel options. Not only are daylight bulbs the popular choice for modern lights in Toronto, but they also give you the ability to imagine how your outfit will look outside in the sunlight. Crystal chandeliers in Toronto bounce light around the closet to effectively encompass the room. Small chandeliers act as jewelry, accenting and adorning the entire room. If your closet is attached to the primary bedroom, you can choose matching light fixtures for both the bedroom and the closet. This allows for more cohesive lighting. You can even take it up a level with matching vanity light fixtures in the ensuite bathroom.
Office Lighting
A home office and the lighting can often be dull in ambience and design. Crystal chandeliers with daylight lighting can make a big difference. Since crystal chandeliers in Toronto offer ambient lighting, it still helps to have pendant light fixtures or desk lamps to help with localized task lighting for activities like writing and reading. Still, a modern chandelier in Toronto from Siga Home Comfort comes with complimentary LED light bulbs that help improve concentration, alertness, and productivity. When you install a crystal chandelier in your home office, you're also able to personalize the space to make it feel more your own.
Crystal Nursery Lights
Putting together a nursery is often an exciting task for parents, albeit sometimes it can be overwhelming with many options to explore from paint colours and themes to furniture and design. . Typically, the most notable fixture hanging from the ceiling in a nursery is a mobile, but light fixtures are just as important, if not more. Since nurseries are for babies and toddlers to grow, it's essential to pick the best modern lights in Toronto for safety through the first couple years of their life. Chandeliers in Toronto from Siga Home Comfort are equipped with LED light bulbs that effectively illuminate entire rooms. You can even choose from child-friendly crystal chandeliers in Toronto like the famous Saturn Chandelier.
To learn more about our selection of light fixtures and chandeliers in Toronto, visit our online lighting store.
For a Free In-House Estimate, Contact the Siga Home Comfort Team.