4 Factors to Consider When Buying Lighting Fixtures Online
Posted on
April 23, 2021
by
Admin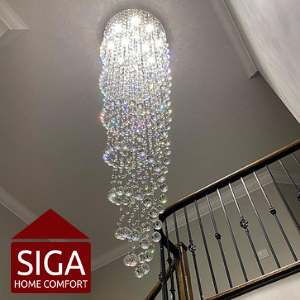 Lighting fixtures can transform the ambience and look of your home with the flick of a button. One of the most vital elements in interior design, the fixtures you pick can truly make or break your space! That said, choosing the right lighting fixtures can be tricky, and lighting stores can often overwhelm most of us. That's why buying lighting fixtures online can be a great alternative, especially in these pandemic times. You can find a dazzling variety of lighting fixtures online at Siga Home Comfort, the numero uno lighting store in Canada! The experts at Siga recommend these four factors to consider when buying lighting fixtures & chandeliers online:
1. Utility
Probably the most critical factor to consider is the utility—what is the light fixture required for? We need different types of lighting fixtures for varied uses in our daily life. According to the utility, the entire house can be divided into 'zones .' Consider the utility of each zone while choosing the lighting fixture. For example, the lighting required for entertaining will be different from the one needed for reading. If you're entertaining, you might wish to buy a spectacular chandelier online to create a dramatic impact or opt for a soft ambiance with a set of pendant lights. The lighting for your bath should be warm, relaxing so go for a dimmable warm LED decorative lamp rated for damp areas.
2. Brightness
The modern LEDs are energy efficient and require lesser power for achieving the same amount of brilliance and light as incandescent lights. Brightness in LED fixtures is measured in lumens. One can consult the IES Lighting Handbook by the Illuminating Engineering Society for the ideal number of lumens required for a particular room or accomplish a task. Remember that some spaces like your bedroom may require lesser brightness, while others like the kitchen may require a greater brightness level.
3. Type of Lighting
Lighting can broadly be divided into three main types—accent, ambient, and task lighting.
Accent
As the name suggests, accent lighting is used to highlight or accentuate any specific architectural design feature, a piece of art, or any such collection.
General or Ambient Lighting
Ambient lighting is soft and diffuse light that illumines a room and enables one to see and move around safely. All ceiling or wall-mounted lights, chandeliers, pendants, and track lights come under this category.
Task
This type of lighting is required for completing a specific task, like a pendant light over a desk for reading. It provides additional illumination to carry out any particular job.
All three lighting types can be layered throughout rooms to achieve a harmonious blend of rich & flexible interior lighting.
4. Colour
The colour of lighting fixtures plays a significant role in the design elements of a home. It is not merely an aesthetic feature—it adds functionality and depth to the interior design schema. Effective use of white, warm, or coloured light can dramatically impact particular fabrics, patterns, and surfaces. Stark lighting in a bedroom can render it uncomfortable, while soft, dimmable lights can make it inviting and cozy. Thus, colour can impact the entire look of your home, so make sure you choose lighting colours suitable for specific areas and situations.
When choosing the colour, consider the warmth of light (measured in Degrees Kelvin). Interior experts suggest warm white lighting (2700-3500K) for bedrooms and living rooms. Kitchens and utility rooms can have brighter white lighting fixtures(4000 to 4500K).
Make A Stunning Style Statement with Siga Home Comfort!
From chic chandeliers to stunning pendant lights, our extensive collection of lighting fixtures can help you transform your space! Whether you are constructing a new home or remodelling one, we have the perfect lights for every room! We ship throughout Canada at prices you'll love! Call us at 437-266-9123 to start a conversation about lights! Our interior experts will be happy to guide you!