4 Easy Lighting Upgrades
Posted on
May 03, 2021
by
ADMIN
An easy way to freshen up your home is with lighting upgrades. With the help of a lighting store in Canada like Siga Home Comfort, you can upgrade your lighting and create a bright new life for your home. Here are the popular lighting trends for 2021 that we recommend implementing into your home. If you feel inspired to upgrade your lighting, visit online lighting stores in Canada like Siga Home Comfort to shop exquisite light fixture collections.
Under Cabinet Lighting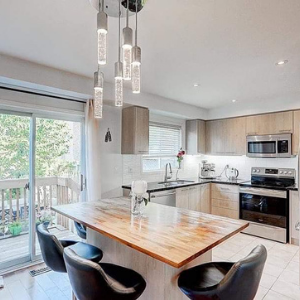 Although it might not seem like a significant change, under cabinet lighting can completely transform your kitchen or bathroom. Under-cabinet lights provide layer and texture to a room to improve the overall ambience and highlight unique features in your kitchen or bathroom. Most online lighting stores in Canada will have options for fluorescent tubing, rope lights, pot lights, and more installed below cabinets. A great option is installing dimmer lights to adjust below cabinet lighting depending on if you are cooking, dining, or entertaining.
Layered Lighting
Many homeowners have a single fixture in the middle of a ceiling to provide lighting for an entire room. Instead, Siga Home Comfort, a lighting store in Canada, recommends installing layered lighting. There are three types of layered lighting: ambient lighting, accent lighting, and task lighting. Combining all three types of lighting in rooms throughout your home will provide depth and warmth to the overall atmosphere and provide plenty of lighting options for diverse activities. For example, task lighting might include reading lamps or desk lights, whereas accent lighting highlights features in a room such as wall décor or track lighting.
Consider Scale
Although layered lighting provides a degree of sophistication and warmth, you do not want a single light fixture to overpower a room. Online lighting stores in Canada can help you determine the dimensions of light fixtures appropriate for any room in your home, whether you are looking for a large chandelier for an entranceway or a small, modern fixture to hang above your dining room table.
Go For A Big Focal Point
As you consider your layered lighting options, make sure you identify a focal point. It can be difficult for your eye to find a place to focus on in a room with multiple lighting fixtures. You will need to pick a light that is the clear focal point of your room with one prominent fixture. Chandeliers are a popular focal point for many rooms.
At Siga Home Comfort, our online lighting stores in Canada offer a wide variety of lighting fixtures for any room. Whether you are looking for layered lighting and subtle accents or a stunning feature piece for your home, we carry everything from chandeliers to pendant lighting. We currently offer free delivery throughout Canada to help you upgrade your lighting in no time. Call us at 437-266-9123 to learn more about any of our lighting fixtures or to talk to a designer about lighting options that will fit your home.