3 Way to Decorate Chandeliers in Toronto for the Holidays
Posted on
December 07, 2021
by
ADMIN
The snow is falling, and the wind is chilling, which means one thing, the holidays are just around the corner. If you're embracing the season with decorations to match, don't neglect your light fixtures. Chandeliers in Toronto are already a statement piece in any home, so why not include them in your holiday decoration too? Transform modern lights in Toronto for a complete holiday home makeover.
If you're looking for modern lights in Toronto, from crystal chandeliers to pendant lighting fixtures, shop Siga Home Comfort. Our affordable and contemporary online light store is open 24/7. You can choose from a variety of chandeliers in Toronto to upgrade your bedroom, dining room, and kitchen lighting in time for the holidays.
Read on for some classic and contemporary chandelier decorating ideas.
Garland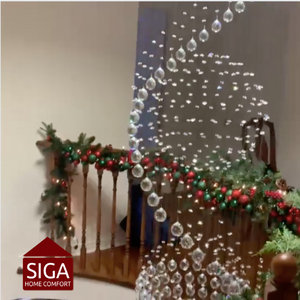 If you have a crystal chandelier in your foyer or dining room, a lush green garland brings a beautiful pop of colour to accent the crystals' transparency. Since modern lights in Toronto don't all follow the same design, you'll have to install the garland according to the structure and layout of your chandelier. If the light fixtures branch out, framing your chandelier's structure with the garland is tried and true.
To add one more dimension to your garland-decorated chandelier in Toronto, choose a garland that has an additional design element, Typically accessories reminiscent of the outdoors blend well like holly or snow-dusted pine cones. To be safe, ensure garlands and wreaths are fire-resistant and away from electrical outlets. Siga Home Comfort offers professional, custom installation services to customers if you need help installing your new crystal chandelier in the Greater Toronto Area.
Candles
Modern light fixtures in Toronto that offer a warm glow create a cozy and inviting atmosphere during the dark winter months. Since December is one of the coldest and darkest months of the year, yellow natural light bulbs can create a relaxed and welcome ambience for guests. Besides switching the bulbs, you can achieve warm modern lighting with candles. While it's likely not possible to light up your chandelier in Toronto with candles, keeping them nearby on dining tables will create a similar effect reminiscent of vintage chandeliers.
At Siga Home Comfort, all chandeliers available from our online lighting store are built with K9 crystals that bounce and redirect light around the room. In addition to light from the bulbs, it will distribute candlelight softly and effectively throughout any room.
Ornaments
Go fun or classic with hanging ornaments for your crystal chandeliers. You can choose from fun thematic snowmen, snowflakes, or traditional gold ornaments to hang from your dining room, stairway, and kitchen lighting. If you put up a Christmas tree or have decorations adorning other areas of your home, extending them to your light fixtures creates a cohesive finish to your home decor. Paired with the shimmer and sparkle of crystal chandeliers in Toronto, any combination of ornaments, garlands, and candles will transform your home into an ethereal holiday setting.
Get started with modern crystal light fixtures online from Siga Home Comfort.
Call us today for a consultation or guidance as you shop our online lighting store.