3 Tips For Buying Lighting Fixtures Online
Posted on
August 19, 2021
by
ADMIN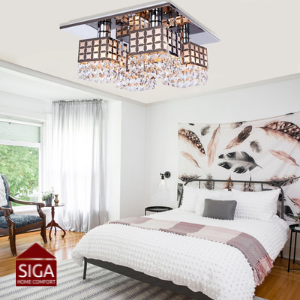 As you shop for a new home or plan your design, lighting is often not the primary focus, coming second to seemingly more important features and furnishings like countertops, furniture, and flooring. But the truth is, while those pieces matter, the right light fixtures can enhance all of those other elements to establish the right atmosphere and reflect your personal style. As a result, modern light fixtures are an essential design focus for every room in your home.
The importance of choosing the perfect lighting is undeniable. Still, with so many factors to consider when selecting light fixtures and decorating a home, the task can often be overwhelming, especially when shopping for light fixtures online. If you need help, you can contact the team at Siga Home Comfort, and we'll help you comb through options with expert advice to help you find vanity light fixtures, chandeliers for every room in your home.
To simplify your online shopping experience, we've put together a list of 3 key shopping tips to help you find the perfect lighting fixtures online.
Choosing the Right Bulb Strength
Even on a rainy day, you can achieve the perfect level of illumination that can fill an entire room if you select the correct bulb. To start, review what the bulb requirements are for your lighting fixture. Light fixtures may have varying guidelines and will perform best when followed. Secondly, consider what wattage will work best with the material and make of your new fixture.
Take Measurements
To find the optimal wattage level, assess the square footage of a room, then multiply it by 50 to get the minimum wattage level required to ensure a well-lit space. It also helps to measure the ceiling height and the length of your walls, as this will directly affect how the light fills the room. Based on your measurements and the light fixtures you like best, you can decide whether you want a single central ceiling light fixture to illuminate an entire room or multiple light fixtures situated around a room. With this information, our experts at Siga Home Comfort can begin recommending the best chandeliers, vanity light fixtures, or pendant lighting fixtures suited for the room.
Think of the Tone
Deciding to go for the warm yellow hue of incandescent lights or the cool blue shade of fluorescents can change the whole style of a room. The brightness level of your home can play a significant factor in your productivity and happiness levels. The ambience you set in a room should correspond with how the space is being used. For home theatres, you may want dim lighting options, while on the other hand, it would be preferable to opt for bright ceiling light fixtures in the kitchen, bedroom, and bathroom. As you browse our ceiling and vanity lighting fixtures online, think about the type of lighting you prefer to spend your day in. If you are unsure, reach out to our team for a free consultation today.
Shop Our Online Lighting Store
At Siga Home Comfort, our online modern lighting store only sells high-quality light fixtures. All of our crystal chandeliers and pendant lights come with long-lasting LED lights at no additional cost.
Our online lighting fixture store offers some of the best prices on the market for vanity light fixtures and crystal chandeliers. We also provide professional installation services to know that your new lighting fixture has been installed correctly and safely.
Browse our selection of online lighting fixtures today, or get in touch with our team to book a consultation.