3 Room Features That Impact Your Vanity Light Fixtures
Posted on
September 22, 2021
by
ADMIN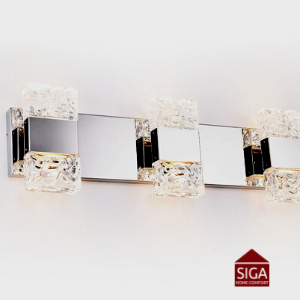 The right lighting can be the difference between a room feeling dull and drab or dramatic and cozy. Before you go shopping for modern lighting fixtures in Toronto, take a look at your space and consider what type of room you have. Knowing the type of room you are designing and the tone you're trying to set will help you identify the perfect fixtures for your space and its features.
With every condo and home differing so vastly in the GTA, the light fixtures you need will be individual to each room in your home. When thinking about bathroom lighting, Vanity light fixtures are an important choice. This is because vanity light fixtures work the hardest to illuminate the face and head for grooming.
Your Ideal Bathroom Lighting
Before buying any new bathroom vanity lighting fixtures in Toronto, which light fixture features are most important to you and the functionality of the room. The primary light sources should be based on the type of bathroom vanity you have. The options include fixtures that are recessed into the ceiling, pendants from the ceiling, or wall sconces that are placed into your wall.
Recessed lighting is the best option for modern vanities as they give off a warm glow and can perfectly match the vanity's style. In contrast, pendant light fixtures and wall sconces can be used to give a more glamorous and dramatic look to your space. Keep in mind, however, that they may provide too much light and overpower your space
Position of Lights And Mirror
The most common mistake is putting recessed lighting fixtures directly overhead of the mirror. The vanity mirror is one of the most crucial features factored in when looking to buy vanity light fixtures in Toronto. It can make or break your design, and it really affects how you interact with the lighting in the bathroom. Understanding what type of mirrors are available will help guide your light fixture decision because nothing else matters if you get this wrong.
Windows & Natural Lighting
Often light fixtures in Toronto have to make up for minimal natural lighting through windows in the city's condos and densely packed homes. What kind of windows do you have? You should not put a light fixture directly on a window due to the heat that it produces. If you have south-facing windows, the sun will be very strong during morning and late day hours, which can cause damage to your furniture or curtains. One of the ways to combat this is to strategically position your fixture so that it can bounce light off of other areas in the room, like the mirrors or your ceiling.
Low Ceilings
Similar to window light, if the ceiling is low, the lights need to be able to compensate for that deficiency. Lighting might not seem like the most critical factor in a bathroom renovation, but don't neglect it. Make sure you think about how even lighting will impact what you see when you look in your mirror or makeup cabinet.
Buy Light Fixtures In Toronto
A new bathroom vanity lighting fixture is often the last finishing touch of a great bathroom redecorating project. From picking out new tiles or paint colours to choosing new bath rugs and towels, the new lighting fixture will transform the final aesthetic of the room.
Talk to one of our consultants today at Siga Home Comfort or browse our selection of vanity light fixtures in Toronto!