Lighting Upgrades You Need in Your Home This Fall
Posted on
October 02, 2020
by
Admin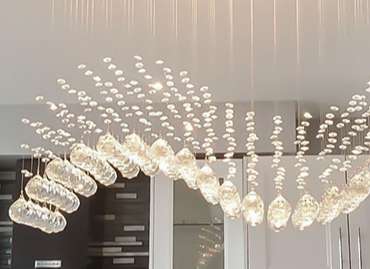 The end of summer has come and gone, and with winter quickly approaching, the days are getting shorter and the air is becoming cooler. With colder weather, comes more time spent indoors with time to think about items around the house that could benefit from an upgrade. With many home improvement projects to choose from, buying light fixtures online should be your first choice. With daylight savings, our days are shorter and darker, so it only makes sense to want to illuminate the inside of your home to counteract the darkness. Not sure which light fixtures to focus on first? We've got you covered. Siga Home Comfort's lighting store in Toronto has the perfect options for lighting upgrades you need in your home this fall.
The Powder Room
Lighting is an important feature in any bathroom, but especially your powder room. This is the one bathroom in your home that will be most used by guests, family members, and friends, so it only makes sense for it to be functional, but also beautiful. The powder room is an easy lighting upgrade as most homes only have one sink and one mirror in their main-floor bathroom, all aspects that can easily change the lighting needs. It's important to consider the size of the room, the tone you want to set, as well as determining how much light is necessary. For a small, powder room we recommend a low wattage ambient light. Whether you choose to go with a classic ceiling light fixture, or a more unique overhead light, Siga Home Comfort's online store is the place to buy light fixtures online.
Dining Room
With more time spent indoors, your dining room can very quickly become one of the most used rooms in the home, making it one of the more important rooms for lighting upgrades. Not only is this where you entertain guests, but it may have also become your new at-home workspace, kitchen space, and common area. Because of the dual-purpose room, it's necessary to buy lighting fixtures online that can uphold lighting for different settings. While bright and fluorescent lighting works best for an at-home work station, it's not always suitable for a dinner setting and vice-versa. In this case, you're looking for a light fixture that not only provides valuable lighting for different occasions but a fixture that is unique, charming and acts as a great centerpiece for different occasions.
Siga Home Comfort's Lighting Store in Toronto
At Siga Home Comfort customer satisfaction is always guaranteed. When it comes to buying lighting fixtures online, our experts are ready to take on any home improvement or lighting upgrade you may need. Whether it's vanity lighting, front hall lighting, or anything else in between, our modern designs will be sure to complement and brighten your home in ways you've never seen before.